SARS Caught, Apprehended For Robbery In Benin City, Millions Recovered (Photos)
SARS officials have been caught, beaten to stupor and apprehended for robbery in Benin City, the capital of Edo State, southern Nigeria.
NewsOne Nigeria reports that two Nigerians were robbed by the Special Anti-Robbery Squad abbreviated as (SARS) under the Edo State Police Command along Lagos Benin expressway (Bypass).
This online news platform understands that a popular human right activist, Gwamnishu Harrison, who confirmed the development in a post on social media network, Facebook, he was able to intervene and recover the money of a businessman from Edo State SARS.
Giving more details, the activist revealed that the money stolen by some members of the Edo SARS have been refunded to the Victims after several investigations and with the support of Higher authorities and Officer in charge of Edo State SARS.
Millions recovered from SARS
The activist further revealed that despite been caught in the act of crime, officials of the Edo State SARS involved are still in the street of Benin looking for who to devour, adding that the SARS operatives who were apprehended for the fraud have not been paraded.
His words: "RECOVERED ONE MILLION, FIVE HUNDRED THOUSAND NAIRA FROM EDO SARS IN ONE WEEK."
"25th February 2020, two Nigerians were robbed by Special Anti-Robbery Squad (SARS) Edo State Police Command along Lagos Benin Express Way #ByPass.
"It has been a fearful week, stressful week and our lives were threatened. We didn't give up or step aside and allow rogue officers who have continued to destroy the image of the Nigeria Police.
"This week, we retrieved 1.5 million from Edo SARS.
"02/03/2020 #Wednesday, N5000,000 was retrieved.
"07/03/2020 #Saturday 1,000,000 was retrived.
"They returned all the money to us but yet to parade these criminals in uniform who are back in the street of Benin looking for who to devour," Gwamnishu Harrison wrote on Facebook.
See evidence of payment below…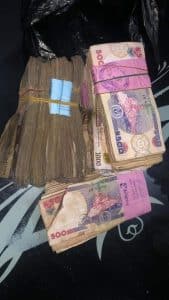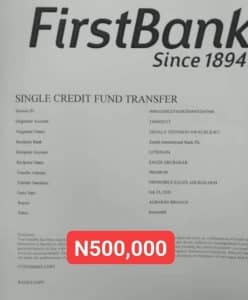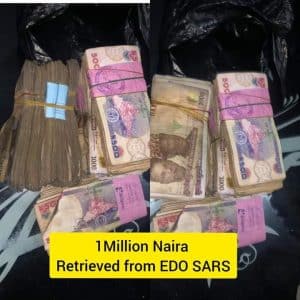 Editor's note: Please note that the featured image was used for illustration purposes and not the SARS official involved in this report.