Dethroned Emir Sanusi Moves To Abuja From Nasarawa (Photos)
Dethroned Emir Sanusi is set to leave Awe town in Nasarawa State, northern Nigeria to Abuja, Nigeria's capital.
NewsOne Nigeria reports that this is coming after Justice Anwuli Chikere of the Federal High Court in Abuja on Friday, March 13, ordered the release of the dethroned Emir of Kano from confinement in Nasarawa State where he was banished on Monday by Kano State Government.
The dethroned Emir Sanusi, who led the 2 pm Jumat prayer at the palace of Emir of Awe, is leaving with Kaduna Governor Mallam Nasir El-Rufai. The Kaduna Governor arrived at the town to visit the deposed Emir, a long-time friend, around 12:30noon.
This burgeoning online news platform understands that the dethroned Emir of Kano and the Kaduna Governor are set to be heading to Abuja.
Meanwhile, NewsOne Nigeria had reported earlier that the Kano State government on Monday, March 9, dethroned Emir Muhammad Sanusi II. Emir Sanusi's dethronement followed the Kano State Council Executive meeting presided over by the Governor Ganduje on Monday, March 9.
A statement by the Secretary to the State Government, Alhaji Usman Alhaji, said Emir Sanusi's dethronement was due to his "total disrespect to lawful instructions from the office of the governor and other lawful authorities.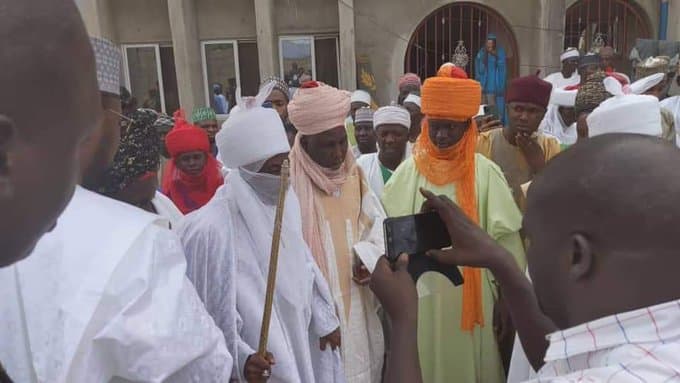 "The Kano State Executive Council under the chairmanship of His Excellency, the governor of Kano, Dr Abdullahi Ganduje has unanimously approved the immediate removal/dethronement of the Emir of Kano Emirate, Muhammad Sanusi II," the statement said.
"The Emir of Kano is in total disrespect to lawful instructions from the office of the governor and other lawful authorities, including his persistent refusal to attend officials meetings and programmes organised by the government without any lawful justification which amount to total insubordination.
"It is on record and in so many instances Malam Muhammad Sanusi II has been found breaching part 3, section 13 (a-e) of the Kano State Emirate Law 2019 and which if left unchecked will destroy the good and established image of the Kano Emirate.
"This removal is made after due consultation with the relevant stakeholders and in compliance with part 3, section 13 of the Kano State Emirate Law 2019 and other reasons stated above.
"The removal was reached in order to safeguard the sanctity, culture, tradition, religion and prestige of the Kano Emirate built over a thousand years.
"His Excellency, Dr Ganduje calls on the general public to remain calm, law-abiding and to go about their normal businesses. While a new Emir of Kano will soon be appointed," the statement added.
Reacting to his removal as the Emir of Kano, in what is his first reaction to his removal from office on Monday, dethroned Emir Sanusi in a video message which lasted over four minutes, accepted his dethronement as an act of destiny.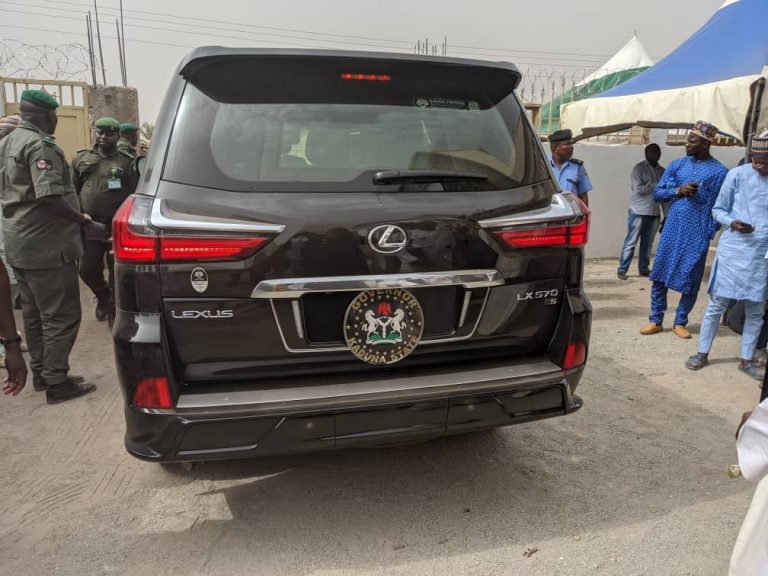 In a statement released by Nasarawa traditional ruler, Sanusi revealed why Governor Ganduje dethroned him as the Emir of Kano.