Appeal Court Delivers Final Judgment On Oshiomhole's Sack As APC Chairman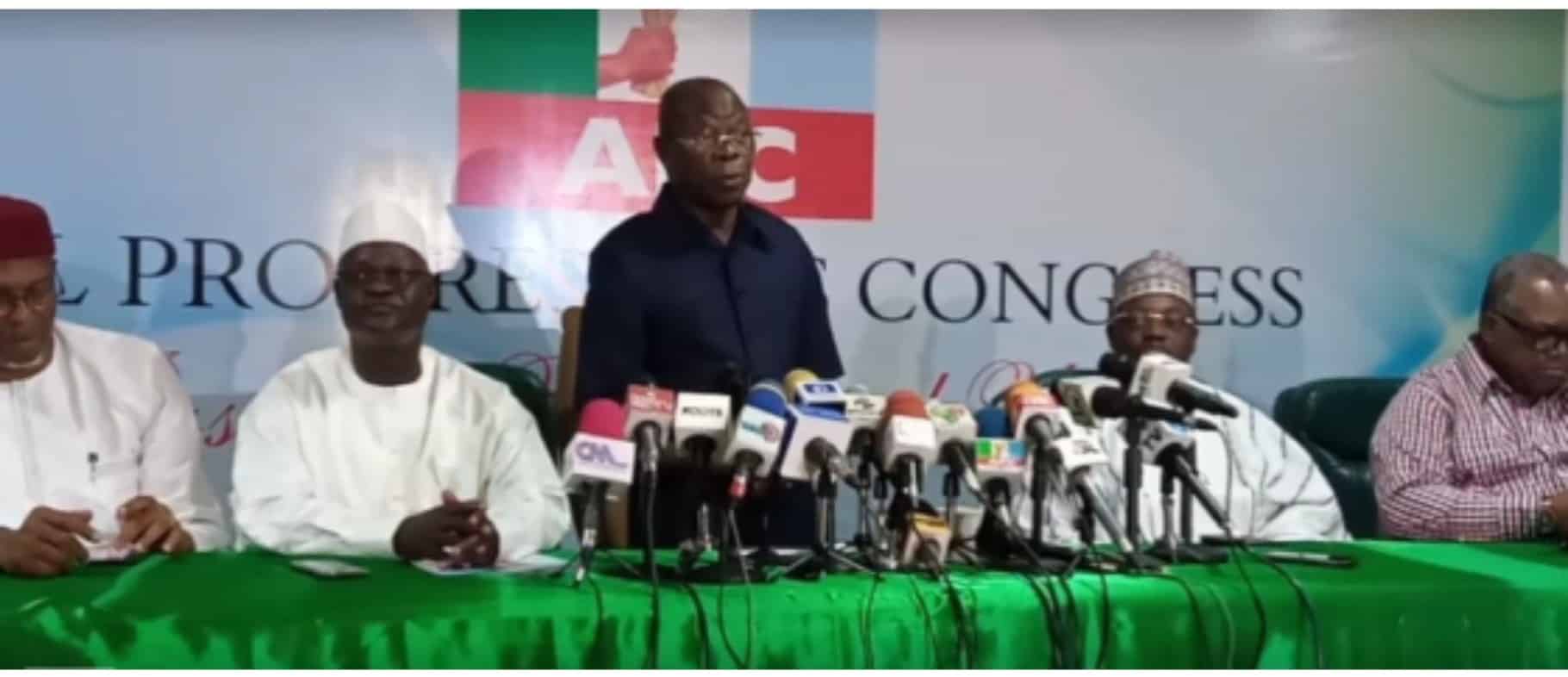 The appeal court has delivered a judgment on Adams Oshiomhole's sack as APC Chairman.
This burgeoning online news platform understands that a three-man panel of justices, led by Justice Abubakar Datti Yahaha was unanimous in granting the reliefs contained in an ex-parte motion argued on Monday, March 16 by a lead lawyer to Oshiomhole and the APC, Wole Olanipekun (SAN).
The court in the lead ruling by Justice Yahaya, also restrained the respondents from further taking any further steps in relation to the March 4, 2020 order by Justice Danlami Senchi of the High Court of the FCT.
Justice Yahaha added: "We employ political parties to try to resolve their differences amicably without having to unnecessarily bother the court."
Meanwhile, the judgement of the Appeal Court is coming a day after the National Leader of the All Progressives Congress (APC), Nigeria's ruling party, Bola Tinubu kicked against Oshiomhole's removal.
Faulting the moves in a statement he personally signed on Sunday afternoon, Tinubu, a former Governor of Lagos State, Nigeria's commercial city, said those behind them are infected by "the 2023 virus".
Tinubu said: "While Corona has been presently contained in Nigeria, we must be alert to another sickness that seems rampant within a certain segment of society. That sickness is old Ambition-virus 2023. This illness afflicts many in the political class along with their allies in the media.
"Those touched by this malady find that their ability to tell time and discern the difference between the present and the future has been strongly impaired. The carriers of this sickness are confused as to the very season our nation now finds itself.
"They conflate things, which no sensible person would conflate. The primary symptom of their malady is the driving tendency to believe the events of 2023 will be decided before we even exit the year 2020.
"Consequently, everything they say and do is geared toward obsessive jockeying for position to control and manipulate a race still three years away. In doing so, they recklessly undermine the very party which they claim to serve and weaken the administration of President Buhari to which they claim to be loyal. They line up to run a race for which the track has not even yet been constructed.
"Put another way, they seek to pluck the fruit before the seed is even planted. As such, their actions border on the pathological. True, ambition is inherent in human endeavour. Without it, nothing great is achieved. However, strong ambition applied in the wrong way has never done anything positive.
"At best, it results in confusion. Usually, its results in something worse. No matter how great one's ambition and how able one may be, nobody can rush or speed time. That is beyond the realm of human capacity. To do so is to contest against fate itself. When it ends, such a contest rarely ends well.
"In a well-structured society, people come to understand that the time for politics is seasonal; it is periodic. The responsibilities of governance are what is perpetual. Many of our politicians sadly have inverted this reality. Politics and electioneering are secondary to governance for they are but tools of governance, the platforms by which one demonstrates his or her worthiness to lead a great people.
"The more a person obsesses over and constantly engages in political manoeuvring is a warning sign. Not only is he prone to the 2023 virus. He likely has little to offer in the way of good governance. He wants to hold public office that you might serve him not he serve you.
"For if he had adequately studied and been acquainted with the ways and means of progressive governance, he would be focused on that important task at the present moment. He certainly would not drown himself and all around him in harmful political intrigue."