Father Mbaka Releases Fresh Prophecy, Speaks On Coronavirus In Nigeria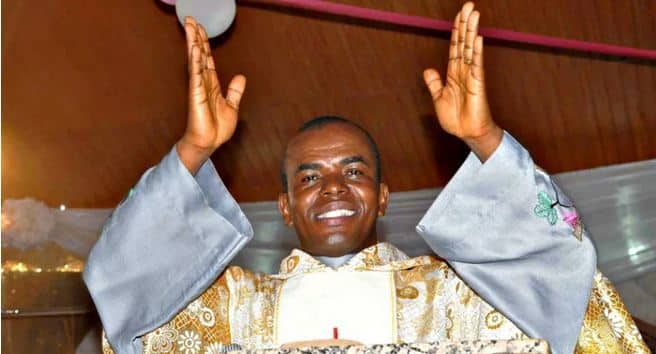 Father Mbaka has released a fresh prophecy on Coronavirus in Nigeria.
NewsOne Nigeria reports that Rev. Father Ejike Mbaka who is the Spiritual Director of Adoration Ministry in Enugu, southeast Nigeria, has charged  Nigerians not to be afraid of deadly Coronavirus (COVID-19) as the pandemic disease will soon go back.
This burgeoning online news platform understands that the controversial catholic priest was quoted by Journalist101 to have made this statement on Wednesday, the excerpts from Wednesday's gathering at the Adoration published by the medium revealed.
Father Mbaka said: "Children of God When you go home, circulate the message that a man of God known as Fr. Ejike Mbaka told you not to be afraid of coronavirus. Be courageous it will soon be a thing of the past," the cleric was quoted by the news medium to have said.
"Fear is a dangerous omen if you become perplexed over it, it shows that you don't believe so much on God's power. Ebola came, it died off, this one will also die off. It is like bird flue disease, it will come and go.
"I know that the whole world is waiting to hear from the message that will come out from this place, but the message I have is that the disease will soon go.
'Under the priestly anointing, I release healing to the entire world, particularly where the disease is ravaging so much, let there be healing, let there be sunray always, which is one of the antidotes to the disease. God release drug that will cure it in Jesus name AMEN," Mbaka reportedly said.
Meanwhile, this is coming after the Federal Ministry of Health confirmed five new cases of coronavirus in Nigeria, bringing the total number of cases in the country to eight.
Nigeria's Minister of Health, Osagie Ehanire, during a press conference in Abuja, the nation's capital, on the update of the disease in the country, said all the new five cases had a travel history to the from the United Kingdom, UK and the United States of America, USA.
"We urge Nigerians to remain calm as public health response activities are intensified across the country," the Minister of Health said.
Updating Nigerians on the development, Nigeria Centre for Disease Control (NCDC) tweeted: "@Fmohnigeria has announced 5 new cases of #COVID19 in Nigeria bringing the total number confirmed cases in Nigeria to 8. All 5 cases had a travel history to the UK/USA.
"We urge Nigerians to remain calm as public health response activities are intensified across the country."
Reacting to the new confirmed cases in Nigeria, the Lagos State Government led by Governor Babajide Sanwo-Olu banned any religious gathering that involves more than 50 people over the deadly Coronavirus.
On the other hand, Apostle Johnson Suleman, the General Overseer of Omega Fire Ministries (OFM), has revealed what God told him about the deadly coronavirus.