FG Sets Date To Shut Down Lagos, Abuja Airports Over Coronavirus In Nigeria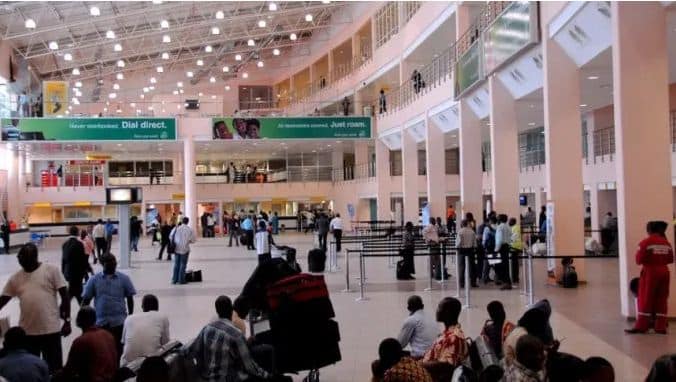 Coronavirus in Nigeria has taken a new twist, with the Federal Government declaring it will shut down the Murtala Muhammed International Airport, Lagos; and Nnamdi Azikwe International Airport, Abuja from Monday, March 23, to contain the coronavirus pandemic.
NewsOne Nigeria reports that the Director-General of the Nigerian Civil Aviation Authority (NCAA), Capt. Musa Nuhu, disclosed this in a statement on Saturday, March 21.
This burgeoning online news platform recalls that three other international airports in Kano, Enugu and Port Harcourt for flight operations were shut on Saturday, leaving the two most important airports in the country open.
According to the NCAA Director-General, the closure will last April 23. He added that emergency and essential flights would be operated from both airports within the period.
The NCAA Director-General said the measure is expedient due to the ravaging Coronavirus pandemic which increased geometrically from 12 to 22 cases on Saturday, noting that domestic flight operations would continue normally in all airports in the country.
"Further to our earlier letter on the restriction of international flights into Nigeria, we wish to inform you that effective Monday 23 March at 2300Z to 23 April at 2300z, Murtala Muhammed Airport, Lagos (DNMM) and Nnamdi Azikiwe International Airport Abuja (DNAA) will be closed to international flights," the statement read.
"This is in addition to the closure of Mallam Aminu Kano International Airport, Kano (DNKN); Akanu Ibiam International Airport, Enugu (DNEN); and Port Harcourt International Airport, Omagwa (DNPO) effective Saturday, 21 March at 2300Z.
"Henceforth, all airports in Nigeria are closed to all incoming international flights with the exception of emergency and essential flights," the statement added.
Meanwhile, NewsOne Nigeria reports that this is coming a few hours after Nigeria recorded 10 new cases of coronavirus, bringing the number of cases in the country to twenty-two.
The minister of health, Osagie Ehanire disclosed this on Saturday, March 21, adding that the infection is in three states in addition to the FCT — Lagos, Ekiti, and Ogun.
NewsOne Nigeria reports that the three cases in Abuja — two males and one female — all returned from abroad between March 14 and 18 while one has been in self-isolation, the other two have not.
The minister also said the 10 new cases are Nigerians, and that nine of them have travel history to Canada, France, The Netherlands, Spain and the United Kingdom and returned in the past one week, while the tenth case is a close contact of a previously confirmed case.
According to him, "Nigeria has recorded 10 new cases of COVID-19 in Lagos and Abuja.
"That is a total of 22 cases in Nigeria: Lagos, 16; FCT, 3; Ekiti, 1, and Ogun, 2," he added.
The minister of health added that two of the patients have been discharged, and that "all cases are clinically stable and receiving adequate care".