How Prophet Joshua Iginla Predicted Coronavirus In 2014 Prophecy (Video)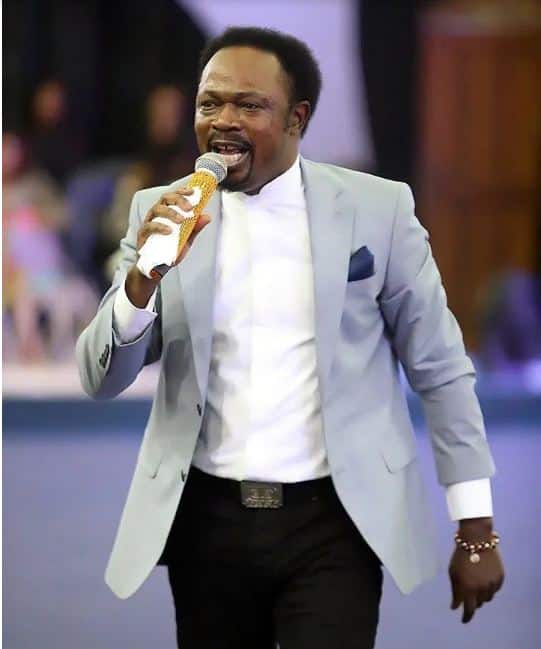 Prophet Joshua Iginla predicted the outbreak of a deadly disease "Coronavirus" in his 2014 prophecy.
NewsOne Nigeria reports that in 2014 prophecy, Prophet Iginla prophesied accurately about a dreadful disease coming in the year 2020.
The Prophet had said: " I see a dreadful sickness worse than HIV. I see a beast coming out. I saw medical experts gathered around this beast but could not conquer it.
"And I see it killing millions of people between 2014 and 2020. Let's pray that between 2014 and 2020 we won't see a breakout of this virus that will kill millions.
"This is a plot. It's an end-time sickness. When we talk about HIV, this is not it. It is something that will blow up the minds of a scientist," the Prophet had said in his 2014 prophecy.
NewsOne Nigeria reports that the 2019–2020 coronavirus pandemic is an ongoing pandemic of coronavirus disease 2019 (COVID-19), caused by severe acute respiratory syndrome coronavirus.
This burgeoning online news platform understands that the outbreak was first identified in Wuhan, Hubei, China, in December 2019, and was recognized as a pandemic by the World Health Organization (WHO) on 11 March 2020. As of 21 March, more than 276,000 cases of COVID-19 have been reported in over 180 countries and territories, resulting in more than 11,300 deaths and 88,000 recoveries causing global panic and emergencies across the world.
In a related development, Nigeria recorded 10 new cases of coronavirus, bringing the number of cases in the country to twenty-two.
The minister of health, Osagie Ehanire disclosed this on Saturday, March 21, adding that the infection is in three states in addition to the FCT — Lagos, Ekiti, and Ogun.
NewsOne Nigeria reports that the three cases in Abuja — two males and one female — all returned from abroad between March 14 and 18 while one has been in self-isolation, the other two have not.
The minister also said the 10 new cases are Nigerians, and that nine of them have travel history to Canada, France, The Netherlands, Spain and the United Kingdom and returned in the past one week, while the tenth case is a close contact of a previously confirmed case.
According to him, "Nigeria has recorded 10 new cases of COVID-19 in Lagos and Abuja.
"That is a total of 22 cases in Nigeria: Lagos, 16; FCT, 3; Ekiti, 1, and Ogun, 2," he added.
The minister of health added that two of the patients have been discharged, and that "all cases are clinically stable and receiving adequate care".
Click HERE to watch the video click HERE to read Prophet Joshua Iginla's 44 prophecies for the year 2020.