EXCLUSIVE: Borno Corpers To Protest Non-Payment Of NYSC Allowance, 'Governor's Discrimination'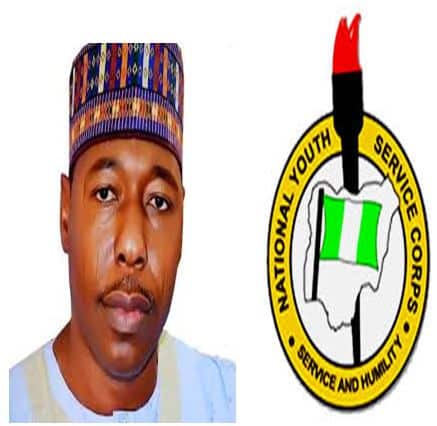 Borno Corpers are set to protest the non-payment of the state NYSC allowance and the "governor's discrimination," NewsOne Nigeria can authoritatively report.
NewsOne Nigeria gathered that some serving members of the National Youth Service Corps (NYSC) in Borno State, northeastern Nigeria, are yet to receive the state's N10,000 monthly allowance despite the promises by the Borno State government led by Governor Babagana Zulum.
This reliable online news platform understands that the management of the NYSC had since increased the monthly allowance for corps members from N19,800 to N33,000. On the other hand, Borno state pays serving corps members in the state N10,000 while its medical corps members receive N100,000 monthly.
Though serving Borno medical corps members currently enjoy N100,000 monthly allowance from the state government, non-medical corps members currently serving in the state who are entitled to N10,000 monthly allowance, are yet to be paid their allowances.
NewsOne Nigeria gathered from reliable sources that the 2019 Batch A corps members who recently passed out are still owed 6 months allowance by the Borno state government. It was, however, learned that the medical corps members were paid while those entitled to N10,000 monthly are still being owed N60,000 which is the payment for six months services to the state.
Sadly, with Batch B stream I corps members set to pass out May 28th, 2020, NewsOne Nigeria learned that the non-medical NYSC Corpers in Borno are being owed 12 months allowances by the Borno State government with no assurance of payment.
While the Batch B stream I non-medical corps members have not received allowances from the Borno State government in 12 months, the state government, on the other hand, have paid the medical corps members, an act which has been berated by the serving corps members.
Like Batch B stream I non-medical corps members in Borno state, Batch B stream II non-medical corps members are yet to receive allowances from the Borno state government in the past 9 months but their medical counterparts have been paid. Batch B stream II corps members will pass out July 2020.
Some of the serving corps members who spoke to our reporter, accused Governor Zulum's administration of discrimination, saying "if the Borno state government can N100,000 monthly to its medical corps members, why can't the same government pay the non-medical corps members the peanut N10,000 monthly?"
NewsOne Nigeria learned that the aggrieved corps members had approached the Borno State NYSC Coordinator, Alhaji Nura Umar three months ago to table their plights and the State Coordinator had promised the corps members that their allowances would be paid but till date the promise has not been kept.
Speaking with NewsOne Nigeria, a serving corps member in Borno said: "This is absolute wickedness if the government don't have money to pay us the N10,000 why pay medical Corpers N100,000?" A furious corps member said.
Another told NewsOne Nigeria that: "The state coordinator promised us that the governor will pay us, as I am talking to you now, some of us will be passing out this month and we have not received anything from the government, is this fair?" The disappointed corps member questioned.
"There is nobody in Nigeria that does not know that Borno state is not safe, we are here risking our lives for nothing. How much is this money we are talking about? Just N10,000 and these people cannot pay. This is unbelievable," another corps member in Borno who has not received the N10,000 allowance lamented.
Another said:  "We were told that the medical Corpers were paid because they are essential workers so what are we that work in the education sector of the state? They should pay us our money, we worked for it," the corps member pleaded.
"Please, get our message out there, we are suffering, Borno state government should pay us our money. The governor should stop this discrimination," another affected corps member said.
Similarly, another said: Let me ask one simple question if the Borno state government have money to pay N100,000 to a medical corps member is it just N10,000 that they don't have to pay us? You can see that this is just pure wickedness," the apparently disappointed corps member cried out.
Meanwhile, NewsOne Nigeria reports that the Borno Corpers will be marching to the State Government House in Maiduguri, the Borno State capital to demand the payment of their NYSC allowance.