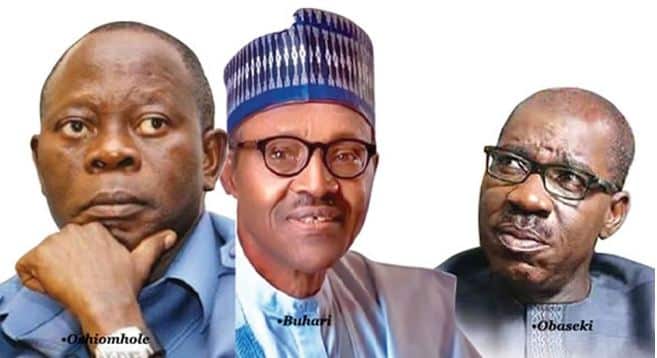 Jumu'ah in a statement published on his
twitter handle @jumuahabiodun
cautioned the APC National Chairman to desist from his present strategies of deliberately instigating direct primaries in Edo State amid widespread prevalence of novel COVID-19 in Nigeria.
"As a concerned citizen of this country, I will like to call the attention of Mr President, COVID-19 Task Force Chairman and National Leader of the ruling party, APC, to Oshiomhole's strategies of deliberate instigating direct primaries in his State to accomplish his narrow-minded plan."
"While it is not my affair to know how you run your party yet my advice for you is, you need to terminate the idea of direct primaries in Edo State with immediate effect."
"At this point in time whereby the nation recorded 1, 005 cases of COVID-19 within last 72 hours, then Oshiomole is a clown with his direct primaries yearning. If your party want direct primaries your National Working Committee, NWC, should approach other party Chairmen for postponement of the election."
"The widespread of COVID-19 has already created tension and panic in Nigeria with the country's confirmed cases surpassed 11, 000 with 315 deaths," Jumu'ah stated.
He added that: "To curb the spread of COVID-19 should be the priority of any responsible leader, not the direct primaries which people will troop out massively to vote"
Continuing, he said, "I'm using this opportunity to call on the World Health Organization (WHO), United Nation (UN), European Union (EU), the United Kingdom (UK), United States of America (US) and other international community to advice Buhari APC government not to go into any direct primaries for now that Nigeria is the second epicentre of the deadly virus in Africa."