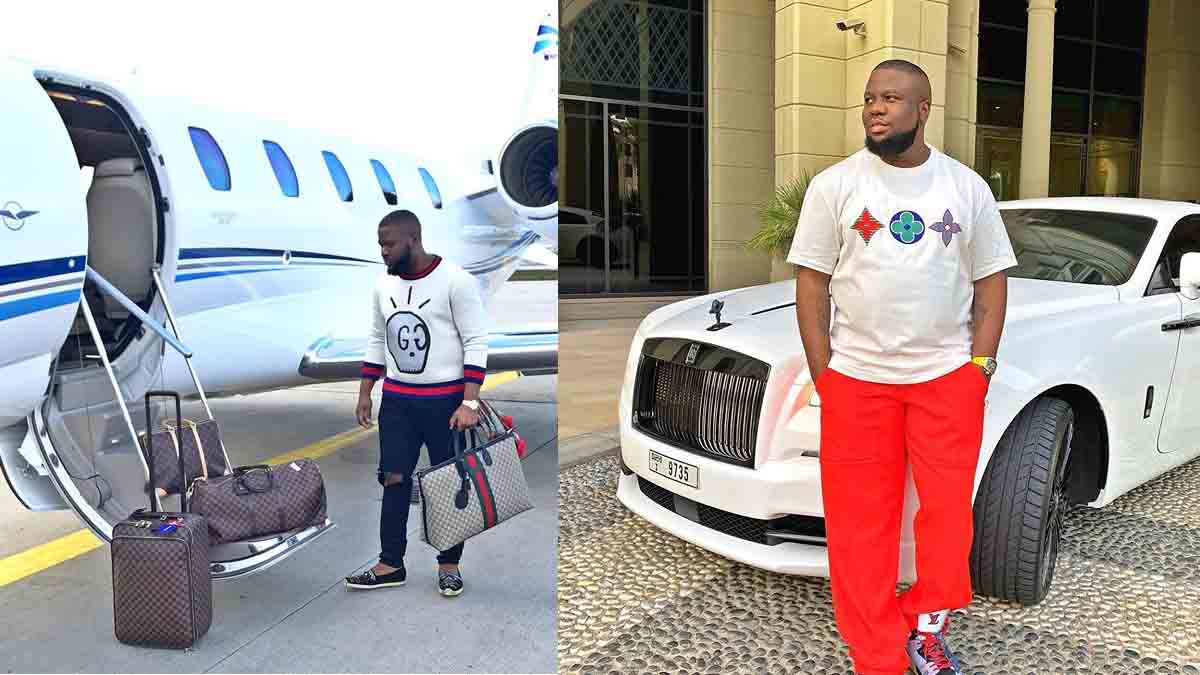 Nigerians have reacted to the news that Interpol and FBI have reportedly arrested Hushpuppi over $35million (N13.5 billion) fraud.
NewsOne Nigeria reports that Nigerian big boys, Hushpuppi and Mr Woodbery amongst others who are based in Dubai, the United Arab Emirates (UAE), have been arrested by Interpol and the Federal Bureau of Investigation (FBI).
According to a video which has gone viral on the internet, Hushpuppi was arrested alongside his close friend and alleged accomplice, Woodberry from their palatial home in Dubai. The arrest was the result of months of investigation by the FBI following a fraudulent deal that involved Hushpuppi and his crew.
The caption of the video, says Hushpuppi and his crew collected the sum of $35 million for ventilator over the ongoing Coronavirus (COVID-19) pandemic.
"See as they pack them!!! They chop COVID-19 ventilator money $35 million dollars!!! Jesus is not sleeping. FBI had to get involved!!! COVID-19 has cause wahala!" The video was captioned.
Oh boy!!! Bye Bye to Hush Puppi 😩 pic.twitter.com/lIYkgL4BLr

— She (@17_xcx) June 9, 2020
According to reports, insiders confirmed that Hushpuppi and Mr Woodbery were arrested today, 02:00 pm Dubai time. Insiders say that Hushpuppi's phone has been switched off since the time the arrest was made.
Shey na True say FBI arrest HUSHPUPPI ???? pic.twitter.com/DzLykLNjxe

— AOS (@Alh_os) June 9, 2020
Moments after the news of Hushpuppi's arrest broke, Nigerians took to social media to react to the alleged arrest.
NewsOne Nigeria captured some of the reactions below…
Mompha to hushpuppi and woodberry pic.twitter.com/ZAr2ZEAF4p

— Adesola sugar (@AdesolaSugar) June 9, 2020
Quite pleased that they've caught Hushpuppi tbh. With all the lavish living and the jokes and the way people hail his lifestyle and what not, it's easy to forget that he's a criminal. Very very good

— FK. (@fkabudu) June 10, 2020
If Hushpuppi is not dressed like this but in Gucci in prison. I go vex for Interpol pic.twitter.com/3d1vPjvWwi

— Aros (@Damii_aros) June 10, 2020
Hushpuppi's first snap post FBI if he eventually gets out 💀 pic.twitter.com/sEWkNOo8jE

— Aros (@Damii_aros) June 10, 2020
Hushpuppi inside interrogation room: pic.twitter.com/INEJHGoe6w

— oderah (@oderahnnaji) June 10, 2020
Interpol: You're under arrest for fraud…

Hushpuppi: Fuck! I'm into real estate

Interpol: where is your estate?

Hushpuppi: i have not started, I bought Sands already sha. The estate is not real for now.

Interpol: 👇👇👇 pic.twitter.com/psXAOdP7Yk

— bigdicked side guy😈 (@JSideguy) June 9, 2020
I'm very sure Alex Mahone lead the Interpol team that busted hush puppi pic.twitter.com/FmU3fIW7bx

— NUMERO UNO 🍁🍃🍂 (@olamizzy) June 9, 2020
When Dubai send Hushpuppi back to Nigeria.
Nigeria police pic.twitter.com/iaEUIEqyLE

— ..💧 (@classicalphilip) June 10, 2020
Hushpuppi when he got nabbed by FBI pic.twitter.com/VkGgO0huR7

— Aros (@Damii_aros) June 9, 2020
"Niggas hating for whatever reason"
Hushpuppi out soon Mashallah🔌 pic.twitter.com/lEpwchm5yM

— OMO 💀 (@nnamdeee) June 10, 2020
Their godfather and mentor hushpuppi has been arrested by Interpol.

Boys don dey delete photos for iG, dey deactivate iG account .. I thought y'all were trading bitcoin and Giftcards 😂😂 pic.twitter.com/rkJ3QNat7H

— Emmanuel Alexander Obi (@JustEmmah_) June 9, 2020
After Hushpuppi, Hazard should be next on interpol list of frauds

— YH (@Yemihazan) June 9, 2020
Judge : Mr Hushpuppi, are there any other names?

Hushpuppi.; Hazard, Vinicius, Coutinho, Joao Felix, Jovic pic.twitter.com/Sdnd6PEaZA

— Kanye East🤺 ( Ofe Nkupu ) (@AnaduAustin__) June 9, 2020
Interpol : what is your work

Hushpuppi: I am into real estate, you can ask mompha.

Mompha: pic.twitter.com/GchwdsMLJn

— Oluwajedalo ⚙️🦅 (@black_jedd) June 9, 2020
Hushpuppi: Mompha, Interpol don arrest me o. I need your help bro.

Mompha:pic.twitter.com/3OBQbThPJJ

— Omoniyi Israel (@__Omoissy) June 10, 2020
Hushpuppi in court explaining what led him to this path in life pic.twitter.com/PjGt3Ect1E

— Ify (@Samuel_Anene) June 10, 2020
Interpol needs to do better tbh. Why Hushpuppi and his friends alone? What about Hazard, Dembele, and Alexis Sanchez? These frauds should be arrested please.

— IZY 💎|| Israel (@izybaby01) June 9, 2020
Could this be the reason why the Interpol arrested Hushpuppi and Woodberry?😒 pic.twitter.com/EZchGGxWKp

— Ara 👁️‍🗨️ (@badejoadewale) June 10, 2020