William Barr, the US Attorney General, is testifying before the House Judiciary Committee Tuesday for the first time in his year-and-a-half-long tenure as the nation's top law enforcement official.
Democrats are grilling him over a long list of controversies and his repeated interventions in matters of interest to President Donald Trump.
Barr's appearance follows more than a year of stand-offs and delays — he hasn't appeared before any congressional committee since May 2019 when he testified to a Senate panel on his handling of former special counsel Robert Mueller's report on Russia's interference in the 2016 election — later declining to appear before the House.
Here's how William Barr testimony unfolded:
3:58 p.m. Hearing adjourned
Chairman Nadler adjourned the hearing after a contentious five hours.
Rep. Cedric Richmond says Bill Barr "brought no black people" onto his top staff when he took over at DOJ: "That, sir, is systematic racism."

"Actions speak louder than words. You really should keep the name of the Honorable John Lewis out of the Department of Justice's mouth." pic.twitter.com/gTc5p1bAji

— ABC News (@ABC) July 28, 2020
2:30 p.m. Barr says the use of tear gas appropriate 'to disperse unlawful assembly'
In an exchange during which Rep. David Cicilline, D-R.I., asks Barr a question about the use of tear gas on Portlander Christopher David — a Navy veteran seen on viral video being beaten by federal agents — Barr says, "I don't know what kind of gas it was."
Barr went on to defend the federal presence in Portland and the use of force against protesters, claiming that agents are needed to prevent "violent attacks on federal courts" from "metastasizing around the country."
Asked by Cicilline if it's ever appropriate for officers to use force against peaceful protesters, Barr says it is when the gathering is unlawful.
"It is appropriate to use tear gas when it's indicated — to disperse an unlawful assembly and sir, unfortunately, peaceful protesters are affected by that," Barr said.
But Barr continued to deny the use of tear gas at Lafayette Park on June 1, even as a U.S. National Guard major testified in a different House hearing Tuesday that there was, and that he picked up the shells on the street that day.
Cicilline also asks Barr whether it's ever appropriate to accept or solicit foreign election assistance.
"Depends what kind of assistance," Barr said, before being pressed further. "No, it's not appropriate."
"OK, sorry you had to struggle with that one, Mr. Attorney General," Cicilline quipped back.
When Rep. Pramila Jayapal, D-Mich., challenged Barr on why white nationalist protesters in Michigan earlier this year did not face the same federal response as Black Live Matter protesters, Barr argues it's a matter for governors.
Jayapal also called Barr's denials that tear gas was used in Lafayette Park a "semantic distinction."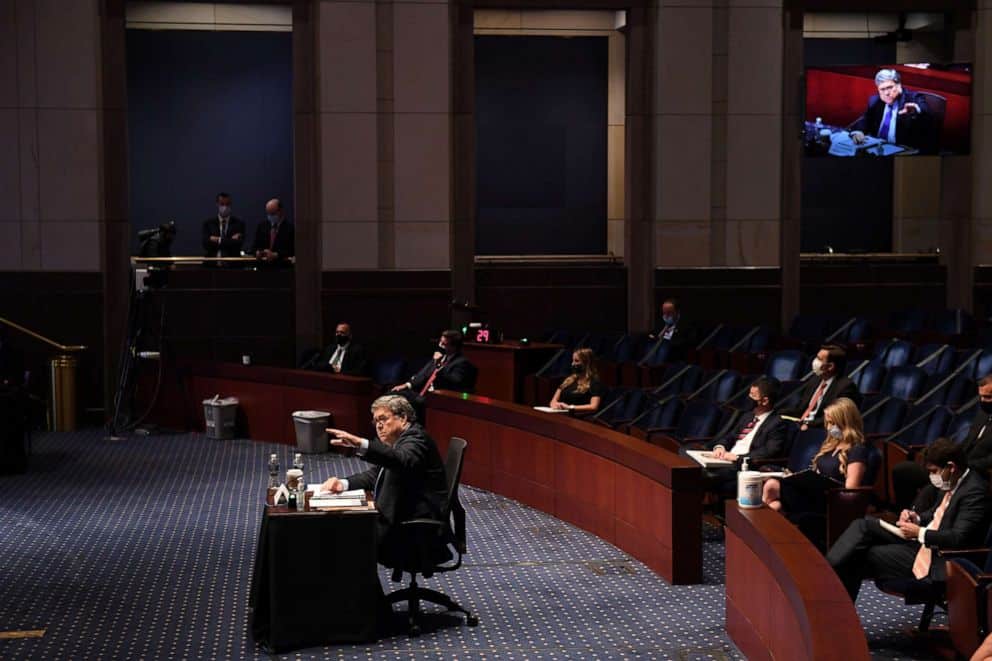 1:52 p.m. Committee takes a recess
The House Judiciary Committee take a recess for approximately five minutes.
1:48 p.m. Barr fields questions on why he isn't investigating Trump for Stone commutation defends BOP decision to revoke Cohen's home confinement
Rep. Eric Swalwell, D-Mass., presses Barr on why he hasn't launched an investigation into Trump based on his commutation of Stone's sentence and previous testimony during Barr's confirmation in which he said it would be illegal for a president to pardon someone in exchange for a promise that the person not incriminate him.
"Why should I?" Barr said when Swalwell asks why he wasn't investigating Trump.
Swalwell goes on to ask Barr if he was aware of a tweet from the president that said Stone's decision not to cooperate with Mueller's prosecutors showed "guts," and Barr answers he didn't read the president's tweets. Barr then said he believes Swalwell was operating on a "Rube Goldberg" theory in saying the pattern of facts justified an investigation into Trump.
"If I applied this standard there would be a lot more people under investigation," Barr said.
Barr then defends the Federal Bureau of Prisons' decision to try and revoke Michael Cohen's release to home confinement after he refused to sign an agreement restricting him from publishing a book — a decision that a judge reversed last week stating DOJ's actions appeared "retaliatory."
"Something that people don't seem to understand is that his home confinement was not being supervised by the Bureau of Prisons," Barr said. "It was being supervised by the probation office which is part of the U.S. Court system and it was the U.S. Court system that had the requirements about not writing."
Republican Rep. Tom McClintock of California then pushes Barr for answers on why those involved in the early stages of the Russia investigation have not been prosecuted.
Barr answers that the COVID-19 crisis delayed some actions U.S. Attorney John Durham was looking to take as part of his investigation, seemingly referring to convening grand juries, before adding, "He is working very diligently and justice isn't something you order upon a schedule like you order pizza."
He then tells McClintock that he "understood" his concern that should Trump be defeated in November it could endanger Durham's investigation.
Barr also criticizes Democrats for what he describes as their failure to condemn those who have sought to vandalize federal courthouses.
"What makes me concerned for the country is this is the first time in my memory that the leaders of one of our great two political parties, the Democratic party, are not coming out and condemning mob violence and the attack on federal courts," Barr said. "Why can't we just say, you know, the violence against federal courts has to stop? Could we hear something like that?"
READ MORE from the  source: ABC