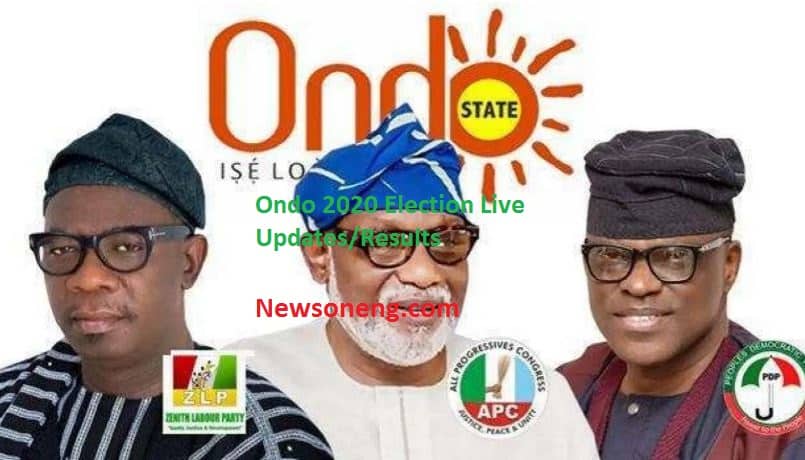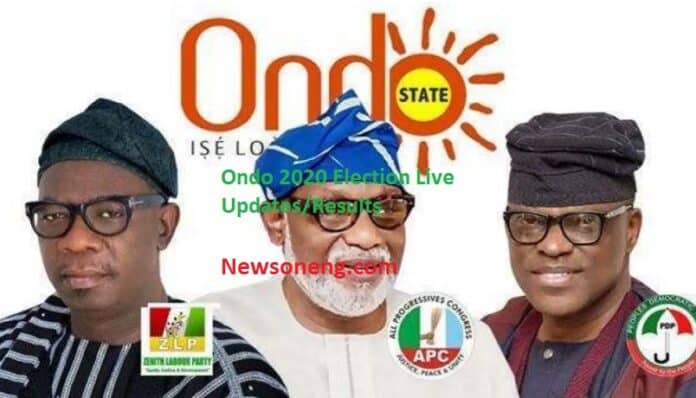 Ondo Election Live Update, Ondo Election Results can be accessed below.
Today, 10 October 2020, the people of Ondo State, southwest Nigeria, will troop out to elect a new governor to govern the southern state for another four years term.
Newsone Nigeria reports that that the election would take place in eighteen (18) Local Government Areas (LGAs) and two hundred and three (203) wards in the state.
Local government areas where the election will take place are:  Akoko North-East, Akoko North-West, Akoko South-East, Akoko South-West, Akure North, Akure South.
Others are: Ese Odo, Idanre, Ifedore, Ilaje, Ile Oluji/Okeigbo, Irele, Odigbo, Okitipupa, Ondo East, Ondo, Ose, Owo.
In the build-up to the election, Incumbent Governor Rotimi Akeredolu of the All Progressives Congress (APC), Nigeria's ruling party, has popped up clearly as a top contender for the office of the governor.
On the other hand, Eyitayo Jegede, the governorship candidate of the Peoples Democratic Party (PDP), Nigeria's main opposition party and the Deputy Governor Agboola Ajayi who is the candidate of Zenith Labour Party (ZLP), are hoping to unseat Akeredolu as Ondo governor.
Although 17 candidates are eying the Alagbaka Government House, Akure, the state capital, eyes are only on three standard bearers. On poll day, the remaining 14 candidates running on the platforms of mushroom parties will pale into dignified spectators. Some of them have been endorsing either Akeredolu or Jegede.
The Independent National Electoral Commission (INEC) put the number of registered voters for the election at 1,478,460 voters. According to the delimitation of the state, elections would be conducted in the 3,009 polling units in 203 wards in the 18 LGAs of the state.
The analysis of Permanent Voter Cards (PVC) collection across the councils shows voters' enthusiasm. The 1,478, 460 cards collected represent 81 per cent of the 1,822, 346 total voter population.
Newsone Nigeria is on the ground to give you live updates from the election.
REFRESH THIS PAGE ALWAYS FOR THE LATEST Ondo Election Live Update
---
Live reports from Ondo state, southern Nigeria.
Click: HERE for Ondo election results
2:30PM: Results coming in from different polling units
7:33 AM – Ileoluji/Oke-Igbo Ondo Central SD, Ward 1, PU 001 Potential voters are checking the pasted voter lists. There is little compliance with COVID-19 rules. 2 security officers were seen at the unit. INEC officials are seen setting up their stands.
7:25 AM – Akoko South West, Ward 5, PU 14, Iworin II. INEC officials on ground.
7:20 AM – At Ward 9 (Ọba-Ilẹ̀) , PU 11 of Àkúré North LGA, as INEC officials set up voting materials as electorates check for their names on the voter's register.
7:18 AM – Ward 09 (Oba Ile), PU 008 of Akure North LGA. Voters are checking the list for their names as INEC officials are setting up electoral materials for the day.
7:16 AM – Ondo East Bolorunduro ward 3 PU 1, market/Ekimogun high school INEC officials has posted the list of registered voters and voters are seen checking out their names.
7:15 AM– At Ward 9 (Ọba-Ilẹ̀) , PU 10 of Àkúré North LGA, everything has been set as INEC officials await the commencement of voting proper.
6:55 AM – Ward 9 (Ọba-Ilẹ̀), PU 9 of Àkúré North LGA,INEC officials are pasting the voters registry and setting up materials for the day. 4 security officials (police officers) are present.
6:50 AM –  Ward 9, PU 7 Àkúré North LGA,INEC officials are pasting the voters register and setting up materials. 4 security officials are present – 3 police officers and a civil defense corp.
6:47 AM – In ward 9, PU 6 of Akure North LGA,INEC officials have began setting up for voting materials. There are six policemen at the polling unit.
6:31 AM – Ose LGA. INEC officials seen at St Anglican primary school moving some materials to their polling units. Officials were seen moving materials to their area of deployment.