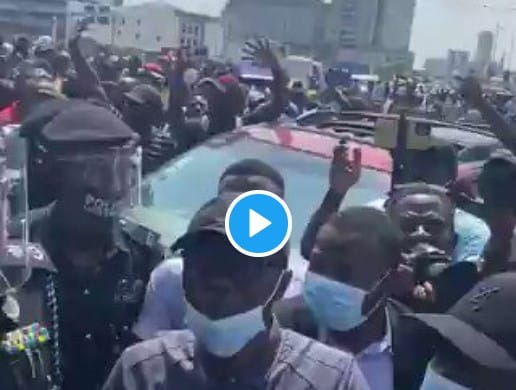 Lagos Governor Sanwo-Olu has  been disgraced by #EndSARS protesters at Lekki toll gate.
Newsone Nigeria reports Governor Babajide Sanwo-Olu met with protesters calling for the total disbandment of the Special Anti-Robbery Squad (SARS) at Lekki Toll Gate in Lagos, Nigeria's commercial city on Monday, October 12.
During the meeting, Governor promised that his administration will pay compensation to victims of SARS extra-judicial killings and brutality.
However, before the governor was allowed to speak, the protesters chanted "Shame shame shame shame!!!!!!"
Watch the video of Lagos Governor Sanwo-Olu below…
Protesters chants shame!!! As the Governor of Lagos state addresses them

(Trey Songz Lebron #Lekki #berger #SARSOUT #ekomiamiblog #togetherwecan #5of5 davido Venita chicken republic Berger ilorin dbanj ) pic.twitter.com/qvZEByuNYR

— EkoMiamiblog (@ekomiamiblog) October 12, 2020