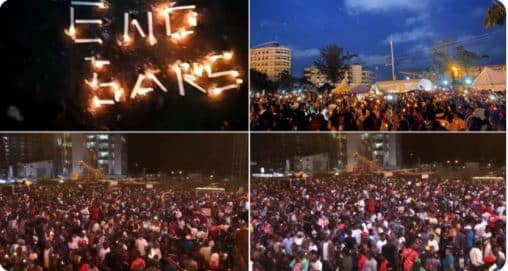 Imam of Peace has called on #EndSARS protesters across various states in Nigeria not to end the protest.
Newsone Nigeria reports that Imam of Peace whose real name is Mohammad Tawhidi, is a Muslim influencer and reformist Imam, who has been a top critic of President Muhammadu Buhari of Nigeria.
Imam of Peace, who took some time off social media, returned on Friday, October 16, and lent his voice to the ongoing #EndSARS protests across Nigeria which has enjoyed supports from Twitter, Google and others.
Newsone Nigeria reports that Nigerian youths are agitating for the end to Police brutalization and extra judicial killings of Nigerians.
Imam Of Peace 'Tears Buhari Into Pieces' In Series Of Tweets
The Nigerian youths have been on the streets for more than a week now, protesting the brutalities, humiliation, and extortion of Nigerians, especially the youths.
During the protests, the protesters demanded an end to the Special Anti-Robbery Squad (SARS), a police unit under the Force Criminal Investigation and Intelligence Department headed by the Deputy Inspector General of Police Anthony Ogbizi, using a hashtag: #EndSARS.
The Inspector General of Police (IGP) Mohammed Adamu disbanded SARS on Sunday, October 11, 2020, following a widespread protest from Nigerians worldwide but despite this, the protesters have refused to leave the streets.
Backing the protests in a series of tweets, Imam of Peace called on the protesters not to stop the protests but rather should hold the leaders accountable.
Imam of Peace wrote: "Don't stop until you change the system and drive the terrorists out of society. No more terrorism. Hold them accountable."
Don't stop until you change the system and drive the terrorists out of society. #EndSARS pic.twitter.com/bz7QWIl0eP

— Imam of Peace🕊 (@Imamofpeace) October 16, 2020
No more terrorism. Hold them accountable. #ENDSARS pic.twitter.com/F4OYCqilcD

— Imam of Peace🕊 (@Imamofpeace) October 16, 2020