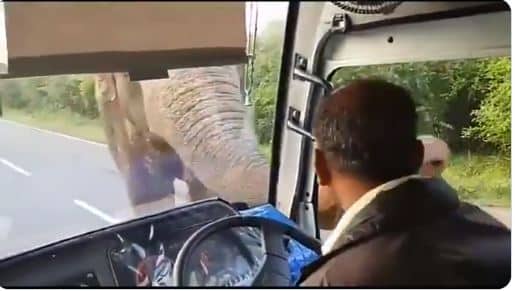 Elephant has been seen Robbing passengers on highway.
NewsOne Nigeria reports that an elephant was sighted robbing passengers along the Grand trunk road in a video shared on the micro-blogging site, Twitter by an Indian Forest Service officer and IISC Bangalore alumnus, Parveen Kaswan.
The Grand Trunk Road formerly known as Uttarapath, Sarak-e-Azam, Badshahi Sarak, Sarak-e-Sher Shah is one of Asia's oldest and longest major roads. For at least 2,500 years, it has linked Central Asia to the Indian subcontinent.
In the 43 seconds video shared by the Indian Forest Service officer, the elephant stood on the middle of the road waiting for vehicles and as soon as one approached, the elephant stretched his trunk into the vehicle, searching for what to "obtain"  but could get anything easily.
However, in a bid to rescue himself and the passengers from the attack of the elephant, the driver placed banana very close to the elephant's trunk and the animal took it and vacated the vehicle.
Reacting to the development the Indian Forest Service officer wrote as the caption of his video: "Daylight robbery on a highway. A forward."
He continued: "On a serious note this is why you see 'Do not feed wild animals' board near forest area. They become habitual of new taste. And keep coming to road & near human. This is not helpful to them in long run. Though possibly this is not related with this video."
Watch Elephant Robbing Passengers below…
Daylight robbery on a highway. A forward. pic.twitter.com/QqGfa90gF5

— Parveen Kaswan, IFS (@ParveenKaswan) November 11, 2020