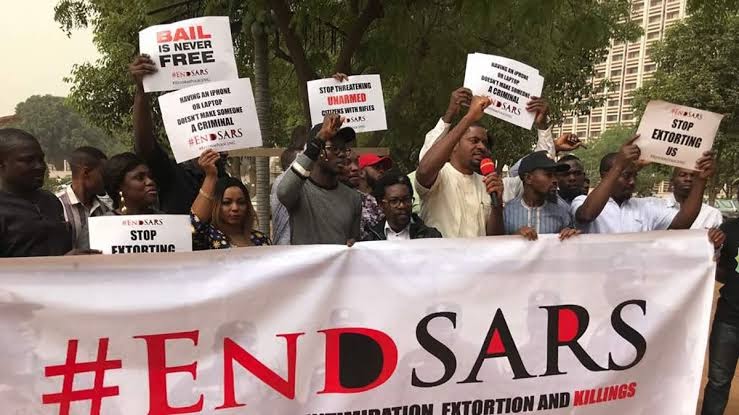 Names Of 22 Lekki shooting victims released by #EndSARS protesters have emerged.
NewsOne Nigeria recalls that soldiers of the Nigerian Army invaded a peaceful protest at the Lekki toll gate in Lagos, Nigeria's commercial city October 20, killing some protesters in the process. Some were left injured.
Weeks after the attack, three #EndSARS protesters,  have disclosed the names Of 22 Lekki shooting victims suffered gunshot wounds during the October 20 shootings by the military and police at the Lekki Toll Gate.
The #EndSARS protesters alleged several others were shot dead by soldiers of the Nigerian Army even while they fled or tried to find cover and others were killed by policemen who came after the soldiers left, according to them.
According to the protesters, some corpses, were taken away, some to Reddington Hospital, Lekki, where one of the doctors named a man whose head was blown open by a bullet as "John Doe".
The three #EndSARS protesters, Perpetual Kamsiyuchukwu, Dabiraoluwa Adeyinka Honey Ayuku, and Samuel Isah, listed the names Of 22 Lekki shooting victims in their November 11 petitions to the Lagos State Judicial Panel of Inquiry probing SARS brutality and the alleged shooting of #EndSARS protesters at the Lekki Toll Gate. The petitions will be heard on Tuesday, November 17.
A former Chairman of the Ikeja Branch of the Nigerian Bar Association (NBA), Adesina Ogunlana, who is the lawyer of the #EndSARS protesters, submitted the list to the panel. The victims' names comprise 21 males – including a 12-year-old boy, Bakare Michael – and a female, Abiola Esther.
The 20 other victims of the Lekki shooting are RFK(Male), Lekan Williams (M), Felix Nandip (M), Adams Moses, Akindele Damilola(M), Samuel Iordyom (Male), Emmanuel John (M), Isaac Amede (M), Charles Uzoma (M), Raymond Simon Abah (M), Samuel Anthony (M), Andrew Ugochukwu (M), Bobby Maduka (M), Moses Oyi (M), Emmanuel George (M), Nelson Andrew (M), Sheriff Akande (M), Chigozie Chukwujeku (M), Shoba Muhammed (M) and Damilola Adedayo (M).