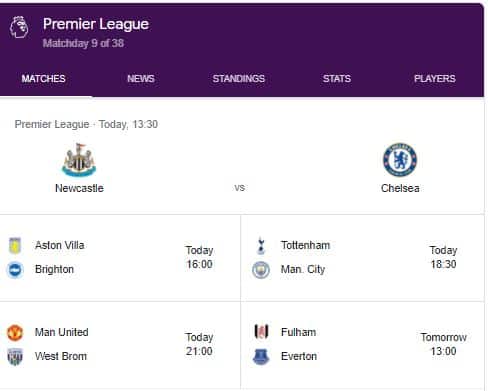 English Premier League fixtures for Match Day 9 have emerged.
NewsOne Nigeria reports that the English premier league fixtures sighted by this online news platform shows that Newcastle United will host Chelsea in the first game of the week.
Apart from Chelsea, three other matches will be played on Saturday while four will take place on Sunday and the last two for the week kicking off on Monday, November 23rd.
See English Premier League fixtures for week nine below:
Saturday 21st November
Newcastle United 12:30 Chelsea
Aston Villa 15:00 Brighton and Hove Albion
Tottenham Hotspur 17:30 Manchester City
Manchester United 20:00 West Bromwich Albion
Sunday 22nd November
Fulham 12:00 Everton
Sheffield United 14:00 West Ham United
Leeds United 16:30 Arsenal
Liverpool 19:15 Leicester City
Monday 23rd November
Burnley 17:30 Crystal Palace
Wolverhampton Wanderers 20:00 Southampton