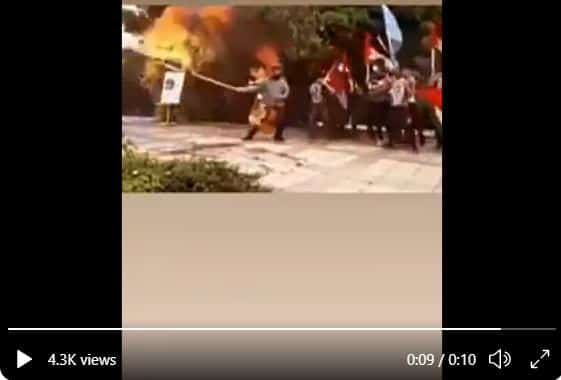 Israeli flag burning turned a new twist when a man got burnt in the process.
Newsone reports that a video has emerged on the micro-blogging site, Twitter, showing the moment a man who was trying to burn an Israeli flag got burnt in the process.
Though its unclear which country the man in the video comes from, Newsone, however, understands that there is an ongoing unrest in Israel due to the conflict between the country and Pakistan.
While Newsone cannot categorically state if the video is a new one from the ongoing pro-Pakistan protest, the video, however, showed aggrieved protesters cheering on as a man raised an Israeli flag up while it was burning before the man got a share of the burning as some parts of the flag cleaved to his clothes, causing the man run for help.
Watch as fire burns man trying to burn Israeli flag below…
Watch till end and tell me if God is not wonderful. pic.twitter.com/kZyDkAMVBS

— Emeka Gift (@Emekannaoma) May 11, 2021
Meanwhile, Newsone reports that Parts of Sydney's Muslim community have taken to the streets to protest against Israel during the ongoing violence in the Gaza Strip.
Footage from videos shot by protesters and posted on social media showed a large assembly gathered in Lakemba during Ramadan festivities, listening to speeches and waving flags. A number of online posters said they were protesting for Palestine.
In a statement, police said an "unauthorised protest" of about 200 people had gathered in Lakemba at about 8pm. During patrols, officers allegedly saw a woman walking down the street through traffic, holding an Israeli flag that had been set on fire.
"A woman was issued a move-on direction after police removed the flag from her possession," police said. "There were no injuries and the fire was extinguished."
One video showed a police officer picking up an Israeli flag which had a large hole burned through the centre of it. "Step on that rubbish," a man is heard calling.
Police said the crowd was large but compliant, and broke up shortly after. A 48-year-old woman was issued a court attendance notice today.