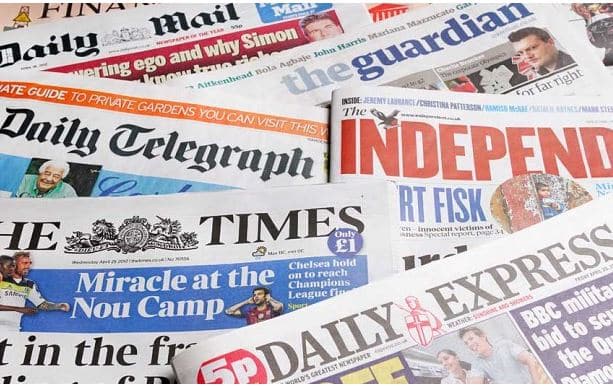 Top newspaper headlines & Naija news today, June 12, 2021 can be accessed below.
Newsone has compiled top newspaper headlines & Naija news today, this means the latest Naija news and happenings in Nigeria can be accessed.
Below are the top newspaper headlines & Naija news today from Nigerian dailies
June 12: Police, protesters draw battle lines in Lagos, Edo, Delta, others
South-East govs, leaders meet Buhari's envoys, list grievances
Abacha's regime offered mum so much but she chose the right path for her country –Jamiu, MKO Abiola's son
SANs fault FG's move to register Twitter, Facebook, others
Nigerians must stand against insurrectionists, killers –Tinubu
FG, Southeast leaders meet, reject agitation for secession
We notified Buhari of our meeting, says Obasanjo
Players of African descent to watch as UEFA Euro 2020 begins
Founders & fixers: Entrepreneurial pursuits of four exceptional women
June 12: NADECO Mulls foreign support on confab.
I remain unapologetic believer in devolving power to the people, says President Buhari
DPR shuts alleged adulterated kerosene outlet in Calabar
State of the nation: Report of our meeting won't be made public until we meet Buhari – Obasanjo
Democracy Day: Celebrate peacefully — Gov Abiodun urges Ogun people
June 12: N'Delta group disassociates self from planned nationwide protest.
We will deal with terror financers — Buhari
Court sacks PDP EXCO in Anambra
Kyari: Petroleum products terminal project to generate 6,000 jobs
FG, Southeast leaders' parley rejects secession agitation
Tension as EFCC officials beat NBA chairman to pulp in Benue
Buhari Condoles with Families of Fallen Soldiers, Victims of Insecurity
Insecurity: In Search of Solution, FG Delegation Parleys South-east Govs
Senate President: Nigeria Needs Twitter Just as Twitter Needs Nigeria
Bandits Kill Student, Abduct 10 Others at Nuhu Bamali Polytechnic
PANDEF Gives FG One Week Ultimatum to Inaugurate NDDC Board.
That's the top newspaper headlines & Naija news today. Read more Nigeria news, African news and world news on NewsOne Nigeria. See you again tomorrow.