Uche Mefor has sent a message to Buhari over Nnamdi Kanu's arrest.
Newsone Nigeria had reported earlier that the leader of Indigenous People of Biafra (IPOB), Nnamdi Kanu has been arrested.
This online news platform understands that hours after Nnamdi Kanu's arrest was made known, the British High Commission spoke the arrest of the IPOB leader.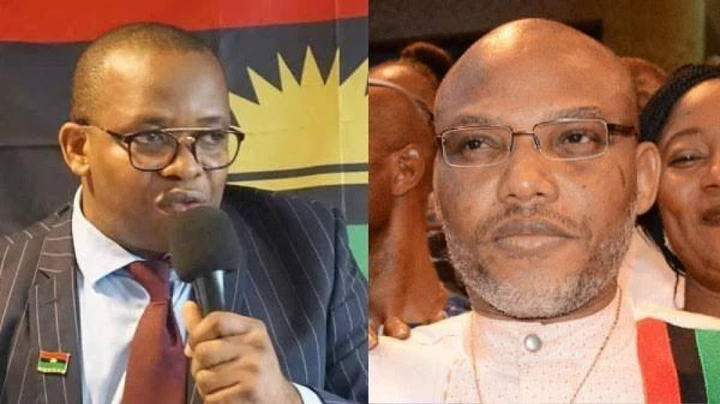 Newsone reports that in a post on social media network, Facebook via his Facebook page, Uche Mefor asked the Federal Government not to try any 'Biafran' in a 'kangaroo court'.
Read Uche Mefor's full post on Biafra agitation and Nnamdi Kanu's arrest below:
BIAFRA'S RIGHT TO SELF-DETERMINATION UNIMPEACHABLE: SELF-DETERMINATION IS A HUMAN RIGHT
The right to self-determination is anchored on the international human rights law so much so that it can never be taken away or criminalised. Biafrans must resist any attempt to criminalise them in this regard because the Biafra's case for self-determination remains compelling——unimpeachable and insurmountable.
The Nigerian state has no justification and certainly no legal basis to criminal those who are exercising their rights to self-determination.
No amount of intimidation can stop the quest for self-determination of the BIAFRAN people.The issue at stake cannot be swept away—— it is about the existential threat to collective existence of the people of Biafra and to which the ultimate solution is referendum leading to external self-determination.
If they feel that any Biafran has committed any crime, let them charge the Biafran to a competent court of jurisdiction (not a kangaroo court) under strict respect for and observance of rule of law. In the end and as long as our hands are clean, we shall prevail.
Once again, nothing can quench the determinative resolve for the restoration of Biafra, let alone that of the ingenuity and resilience of the indomitable Biafran spirit.