Tinubu Goofs In First APC Campaign Outing, Says God Bless PDP [Video]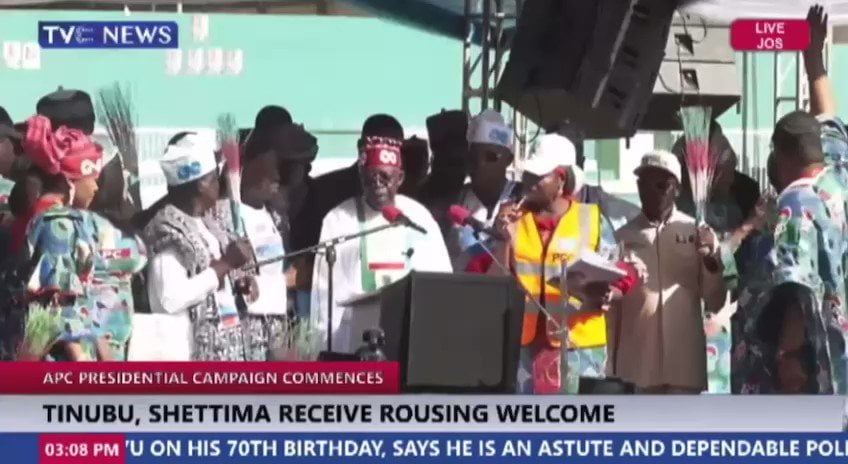 Tinubu goofed in his first APC Campaign outing on Tuesday, saying God Bless PDP.
Newsone reports that the presidential candidate of the All Progressives Congress (APC), Nigeria's ruling party, Bola Tinubu, on Tuesday, November 15, 2022, suffered a blunder while speaking at the flag-off of his campaign in Jos, Plateau state, northern Nigeria.
While rounding off his speech at the APC Presidential rally held at the Rwang Pam township stadium in Jos, the capital city of Plateau, Tinubu suffered a slip of the tongue as he mistakenly referred to the Peoples Democratic Party (PDP) when he had his party in mind.
"…I hand over back to the chairman of the party before he disciplines me for leaving the President waiting and keeping him standing. We are calling, inviting the national chairman to invite the President. At least to close this part of the ceremony. Thank you, God bless you, God bless Nigeria. God bless PD…APC," he said.
Watch Tinubu God bless PDP video below…
Wahala don happen ooo🙆🏾‍♂️

Watch moment their Unhealthy Jagaban said "God bless PDP "

See reactions of people behind him🤣🤣
.
.
Shan George • Nzogbu Nzogbu • Plateau • Ronaldo • Soludo • Peter Obi • Bola Ahmed Tinubu • Emilokan • Reuben Abati • Ngozi Okonjo Iweala • Jos pic.twitter.com/MmNv9UlxA9

— Chinaza #PeterObi-HypeMan Ⓜ️ (@MuchTalksBlog1) November 15, 2022
In his remarks, APC national chairman, Abdullahi Adamu, said the party needs to put in hard work to win the 2023 polls.
"The right of a party to remain in office is not cast in stone. I emphasise hard work; I understand the need to work together," he said.
"The achievements of President Muhammadu Buhari have surpassed his predecessors. In his seven years in office, our roads, airports have been transformed."
Senate President Ahmad Lawan on his part, said opposition parties that want to compete with the APC have nothing to say.
"Mr President, you are a hero of infrastructural development in Nigeria. Our next president will build on that. Those that want to compete with us have nothing to say. PDP had a few projects with more resources," Lawan said.
"For 16 years, Plateau was not home of peace. But from 2015 when Lalong was elected, Plateau started experiencing peace."
Meanwhile, News OneNigeria reports that this is not the first time APC Presidential Candidate Tinubu would goof in public. In July, the the former Lagos State Governor also forgot the name of his party during an interview.
The APC Presidential Candidate was speaking to members of his party in public and almost addressed the APC as "Action Congress." However, he was quickly corrected by one of the aides who stood beside him.
Tinubu caused a stir online in October after he said Kaduna State Governor, Nasir El-Rufai, has a vision of turning "rotten situation to a bad one."
The incident had sparked rumours that Tinubu who just returned from London at that time might be suffering from dementia.
Tinubu was speaking at the seventh edition of KadInvest, an annual event organised by the Kaduna State Investment Promotion Agency.
"We're not going to let you run away, your vision, creativity and resiliency in turning a rotten situation to a bad one is necessary at this very critical time. That is why we are here today," Tinubu told El-Rufai.
Critics of Tinubu have said that the APC Presidential Candidate avoids debate in order not to goof.