BREAKING: JAMB Result Checker Portal Crashes Over JAMB Result 2022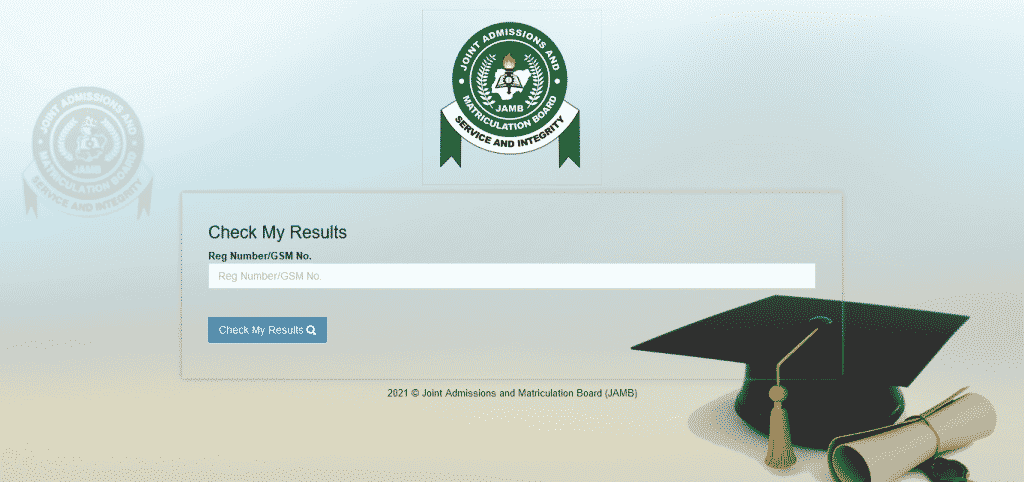 Newsone had reported earlier that the Joint Admissions and Matriculation Board (JAMB) has announced the release of the 2022 Unified Tertiary Matriculation Examination( UTME) results.
This online news platform understands that the JAMB Head of Public Affairs and Protocol, Fabian Benjamin, said this in a statement on Saturday, May 14, 2022.
Newsone Nigeria reports that JAMB directed candidates to send UTMERESULT to 55019 using the same phone number that was used for JAMB registration 2022.
The statement reads: "To check the 2022 Unified Tertiary Matriculation Examination (UTME) result, all a candidate needs to do is to simply send UTMERESULT to 55019 using the same phone number that he/she had used for registration and the result would be returned as a text message. This is the only process of checking the 2022 UTME results for now as the Board has not uploaded it on its website for obvious reasons.
"In addition, candidates are forewarned that they would, as usual, receive all kinds of messages from desperate fraudsters on how to check their results different from the aforementioned one. Hence, the Board urges all candidates to ignore all such messages on how to check their 2022 UTME results as they are all products of deceit aimed at misleading them.
"The Board, in line with its desire to adhere to the ease of doing business protocol of the government, has emplaced this user-friendly and simplified process of checking UTME results. Furthermore, this simplified process would also serve to preclude the unconscionable exploitation of candidates by shylock business centres and cybercafés, which often take advantage of hapless candidates.
"The 2022 UTME began on Friday, 6th May, 2022 and ended on Friday 13th May, 2022," the statement issued by JAMB on Saturday afternoon added.
JAMB Result 2022: How to Check JAMB

Results,

2022 UTME Result Online on JAMB Result Checker Portal 
You can now access your 2022 JAMB UTME Results via SMS or ONLINE. Kindly follow the steps outlined below to access your UTME score.
Follow the 4 simple steps below to check your 2022 JAMB UTME result online without a scratch card i.e. FREE!
Visit the Joint Admission and Matriculations Board (JAMB) result checking portal at https://portal.jamb.gov.ng/eFacility_/CheckUTMEResults
Supply your Registration Number/Email Address in the required column
Click on the 'Check My Results' button to access your UTME results notification
If your result is ready, the portal will return your JAMB Notification of Result. You can then proceed with the printing of the result
www.jamb.gov.ng Efacility result portal – For 2022 JAMB candidates, the correct link to check your result on JAMB portal is www.portal.jamb.gov.ng/efacility. Your registration number will be required of you before you an check your result online.
Click: HERE to check JAMB result 2022.
Very important. Portal.jamb.gov.ng/efacility is open for checking JAMB 2022 UTME Result. We have also elaborated earlier on how you can also check the result slip with your mobile device, you can check our archives for more information relating to that. Also, updates regarding candidates who are yet to see their results will be made on the official handles of the Joint Admissions and Matriculation Board.
Can I Check JAMB Result 2022 On Phone?
Yes, you are free to check your result on phone as far as it has been released online for checking.
It doesn't matter whether you are using android or iPhone or even your browser, just use the link to check UTME results which I dropped above.
The only thing is that you can't print your result slip out using your phone, but you can save it as a PDF then take it to any cyber cafe near you for printing (this will reduce the cost).
How to Check JAMB Result 2022 Online Via SMS
All candidates can now send UTMERESULT, via SMS, to 55019 using the same number that was used for registration (you must have a credit balance of at least N50 on your line). The result would be replied to you as an SMS shortly after. That is: send UTMERESULT to 55019.
The following are the responses to be expected:
If a candidate uses a phone number that was not used to register, a message will be sent to him thus: 'This phone number was not used for registration."
A candidate with a result will receive the message: "Dear Mr/Miss X, your result is as follows… (and the details will be provided).

If a result is withheld, a "Result Withheld" message will be sent to the candidate.
If a candidate belongs to the category being given the benefit of the doubt, the message to the person will be: "Result withheld pending the upload of clarifications/document required from you."
If a candidate was absent, s/he would get "CANDIDATE ABSENT" as feedback
A candidate that was ABSENT WITH REGISTRATION NUMBER also CANCELLED will be so informed.
"Invalid Entrance into the Exam Hall" will be sent to a candidate who gained unauthorized access to the examination hall.