WAEC Result 2022 Is Out, See How To Check WAEC Result Here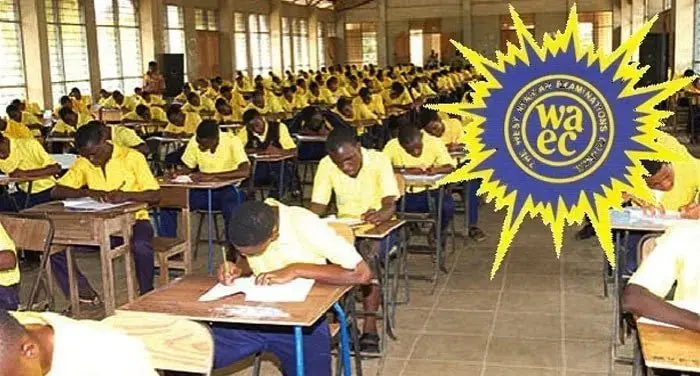 Newsone reports that the West African Examinations Council (WAEC) on Monday released the results of school candidates, who sat the 2022 West African Senior School Certificate Examinations(WASSCE).
This online news platform understands that WAEC's Head of National Office, Patrick Areghan, while speaking at a briefing on Monday, August 8, 2022, noted that the results were released 45 days after the last paper.
According to the examination body, a total of 1,222,505 candidates, amounting to 76.36 percent of the 1,601,047 candidates that successfully sat the examination, obtained credits and above in a minimum of five (5) subjects, including English Language and Mathematics.
The statistics represent a decrease of more than five percent in performance when compared with the 81.7 percent pass rate recorded in 2021.
Announcing the results at the headquarters of the examination body in Lagos, the Head of Nigeria Office (HNO), Patrick Areghan, said a total of 597,811 of the candidates, representing 37 34 percent, were male; while 624,694, representing 39.02 percent, were female.
WAEC Withheld results
WAEC's Head of National Office further added that 1,437,629 candidates, representing 89.79 percent, have their results fully processed and released while 163,418 candidates, representing 10.21 percent, have a few of their subjects "still being processed due to some issues being resolved."
"Efforts are, however, being made to speedily complete the processing to enable all the affected candidates to get their results fully processed and released within the next one week," he said.
He, however, noted that the results of 365,564 candidates, representing 22.83 per cent of the total number of candidates that sat the examination, are being withheld in connection with various cases of examination malpractice.
"This is 11.74 per cent higher than the 10.9 per cent recorded in the WASSCE for School Candidates, 2021."
Areghan linked the high number of such cases to the poor preparation by candidates, saying "preparations for examinations are poor."
He said there was over-reliance on malpractices and "the so-called 'Expo," which he noted is actually non-existent.
"Candidates simply got frustrated when they got into the examination hall and discovered that all they had celebrated was fake. This has pitiably led to some of them failing the examination, which if they had relied on themselves and studied hard, would have passed like many others," he said.
Newsone Nigeria reports that the examination was held for six weeks from May 16 to June 23, 2022.
How to check WAEC Result 2022
To check your WAEC Result, visit www.waecdirect.org and login. Please note: you may need WAEC scratch card to check. Follow the procedures below to check your WAEC result 2022.
Login WAEC Result Checker Website www.waecdirect.org.
Enter your Examination Number
Select Examination Type e.g May/June
Select Exams Year e.g 2022
Click on Check Result.
You can find your WAEC Serial Number at the back of your Examination card. Or better still, you can purchase the scratch card in the nearest WAEC Office or accredited dealers around your location, thereafter you use the card to check your WAEC result 2022.
How to Check WAEC Result with SMS
It is very possible to check your WAEC Result using SMS. Now we want to guide you on what you should if you have decided to check WAEC 2022 result via SMS. Follow our instructions as outlined to you below:
Using your mobile device, Type WAEC*ExamNo*PIN*ExamYear
Send to 32327
You will receive a message instantly containing your WAEC statement of result.
Please note, only MTN, Glo & Airtel Subscribers can actually check their WAEC Result using this SMS method. If you did not receive your WAEC result via SMS, kindly repeat this step again. SMS Charges will be applied when checking your WASSCE result using text message.
You will need to have purchased the WAEC Direct Scratch card in order to check your result via text message. The scratch card pin is what is needed in the PIN section of the SMS you will send to 32327.