#JoshuaFranklin: Watch Anthony Joshua vs Franklin Livestream Here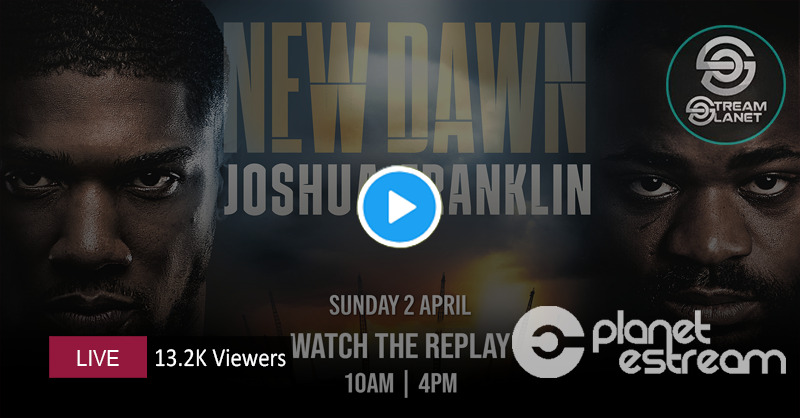 Watch Anthony Joshua vs Franklin Livestream below.
Newsone reports that Anthony Joshua is keen to get back to winning ways in London tonight. The British-Nigerian last achieved a win in 2020 and has since suffered back-to-back defeats to Oleksandr Usyk.
The Ukrainian took the unified heavyweight titles from Joshua with a decision win in 2021 before retaining the belts with another points victory over Joshua last August, leaving the former Olympic champion to switch trainers in pursuit of a better performance with Derrick James the chosen man in the 33-year-old's corner tonight.
Meanwhile, Newsone Nigeria reports that the American Franklin enters the O2 Arena on the back of a controversial loss to Dillian Whyte – the first defeat of the 29-year-old's career. Franklin suffered a majority decision loss to Whyte in the English capital in November, when the winner was set to be rewarded with a fight against Joshua. Despite his defeat, and with many believing he had done enough to win, Franklin has paired with Joshua anyway.
Every Anthony Joshua fan here wants, and many expect a knockout victory for the British-Nigerian tonight.
Anthony Joshua vs Franklin Livestream
🎥LIVE STREAM HD🔥

Boxing Live

Anthony Joshua vs Jermaine Franklin

Retweet & follow @fighterufclive#JoshuaFranklin

Enjoy free v Streaminghttps://t.co/rOmkPyG1Nx

— Anthony Joshua vs Jermaine Franklin Live HD (@nhengriska) April 1, 2023

ROUND ONE: Joshua on front foot!
ROUND TWO: Joshua bleeds
ROUND THREE: Franklin lands hits on former champ
ROUND FOUR: Joshua lands jab on American's face
Joshua goes for a slightly higher guard during the fourth round. He's baiting Franklin to go for the body instead of the head after taking a few knocks in the last round.
Joshua lands a lovely right jab direct on Franklin's face. He follows it up with another just a second later… but the American doesn't appear to be phased.
The British-Nigerian grapples with Franklin and puts him in a headlock.
Joshua lands another sharp jab, stunning Franklin and forcing him to unravel a little in retaliation.
The score reads 10-9, 10-9, 10-9, 10-9, all in favour of Joshua.