Peter Obi Blasts Governor Wike for Working Against Him In Rivers State [Video]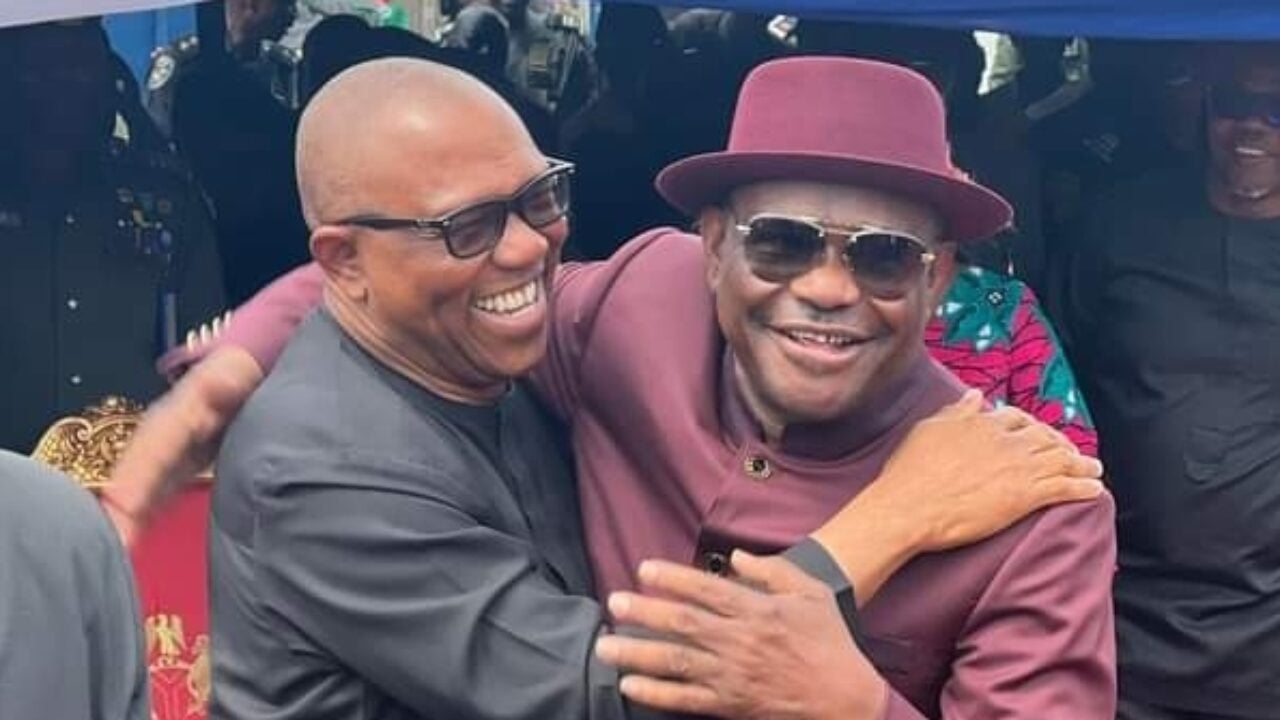 Peter Obi has berated Governor Wike for working against him in Rivers State.
Newsone reports that the Labour Party Presidential Candidate for the 2023 Elections in Nigeria, Peter Obi, has said the governor of Rivers State, Nyesom Wike worked against him during February 25, 2023, Presidential Election in the south-south state.
This online news platform reports that Peter Obi made this statement on Monday, March 13, 2023, on Arise Television Morning, days after weeks after the winner of the Presidential election was announced.
Newsone Nigeria reports that for months before the elections, Wike and four other PDP governors known as the G5 demanded the resignation of Iyorchia Ayu, saying northerners should not be the PDP national chairman and presidential candidate.
Both the PDP flag bearer, Atiku Abubakar; and Ayu called the governors' bluff and did not succumb to their demands in the just-concluded elections.
For the presidential election, Atiku lost in all the G5 states while Labour Party's presidential candidate, Peter Obi won Enugu and Abia, and Bola Tinubu of the All Progressives Congress (APC) raked in Oyo, Benue, and Rivers.
INEC subsequently declared Tinubu as President-Elect after he came out tops in 12 of Nigeria's 36 states, and secured significant numbers in several other states to claim the highest number of votes — 8,794,726, almost two million votes more than his closest rival — Atiku.
Atiku, 76, who has now run for president six times, got 6,984,520 votes, while Obi, who, in less than a year, galvanised young voters in a manner some have described as unprecedented finished the race with 6,101,533.
Both Obi and Atiku said the election was flawed and have challenged it in court. They faulted INEC for not uploading election results from polling units electronically to the commission's Results Viewing Portal (IReV), as stipulated by Section 60 of the Electoral Act 2022.
Last week while hosting the National Executive Committee of 'Ohanaeze Ndi Igbo' Worldwide, at Government House in Port Harcourt, Governor Wike maintained that he could not have worked against Peter Obi when he supported him during his presidential campaign in the state, not minding that he was not his party member.
"I supported that power must come to the south. When Obi came here, I gave him all the logistics: vehicles, and other support, and paid for the stadium, but some other persons applied and I refused. You should know me too well by now," he said.
But Obi while speaking on Arise TV Morning Show today, stressed that Governor Wike worked but despite that he won 50% of the votes in Rivers State using the "real vote count".
"I am surprised I didn't get 100% in Anambra, more Indigenes voted for me in Lagos than the Igbos. Even with Wike working against Me I still won over 50% of Rivers State using the Real Vote Count," Peter Obi said.
Watch Peter Obi's video where he berated Governor Wike…
Peter Obi on Arise TV

"I am surprised I didn't get 100% in Anambra, more Indigenes voted for me in Lagos than the Igbos. Even with Wike working against Me I still won over 50% of Rivers State using the Real Vote Count" pic.twitter.com/UWtNU2Nciq

— Chief Nomso 👑 (@Odogwu_Nomso) March 13, 2023