The Humble Beginning Of AKMODEL; All You Need To Know About Abdulhakeem Odegade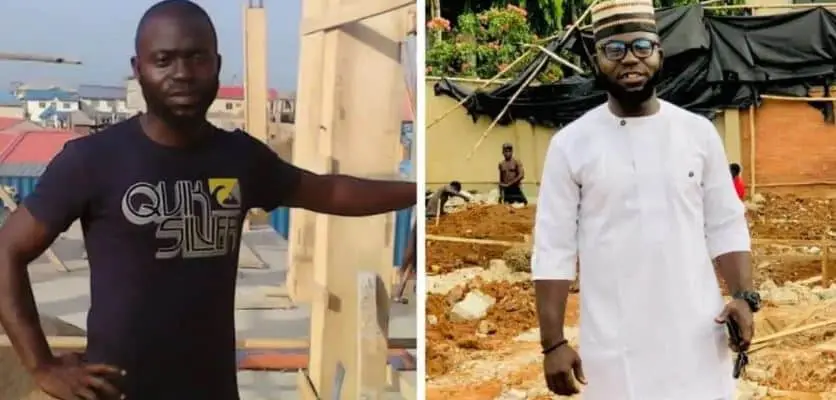 The humble beginning of AKMODEL and all you need to know about Abdulhakeem Odegade can be accessed below.
The story of Builder Abdulhakeem Odegade, also known as AKMODEL is one that can inspire anyone and make a good motivational compilation. He rose from obscurity and is gradually working into fame and is now recognized as a real estate magnate and one of Nigeria's emerging successes.
Bldr. Odegade is the Managing Director (M.D) and Chief Executive Officer (CEO) of AKMODEL GROUPS, a Construction and Building, Homes, and Properties Company focused on building standards and quality edifices in different parts of the country. He is also a venture capitalist and an investment strategist.
EARLY LIFE
Builder Odegade grew up in Osun State, lived with his parents and siblings, where he learned the importance of entrepreneurship. He attended public primary and secondary schools as his parents could not afford to send him to a private school.
Excepts from a detailed interview session;
Ques: HOW DID YOU GET INTO THE BUILDING BUSINESS?
Resp: The building story came from my father, Pa Jimoh Odegoriade (A.K.A Ologun-ebi), he had so many connections due to the way he was diligently doing his work way back in 1988. I began to understudy and learn the practicals from him anytime I come back from school, over the weekend or during holidays.
Though he didn't go to school, he learnt bricklaying work and attached himself to the Julius Berger team during the construction of Obafemi Awolowo University (OAU), Ife, as a merson, following them to different construction sites and along the line, he learnt how to speak Pigin English.
After the completion of that particular project, he followed them to go build a Catholic Church in one of the villages where he met my mother who also worked in the site and that is history now.
I was learning the bricklaying work through him until he relocated from Ife to Lagos as a consultant to Apapa Local Government in 1997.
I was 18 then, and since I've finished secondary school, I came back to Lagos to assist him. I can read and write while he can't. So I assisted him in writing quotations (that's how I learnt how to write, present, defend and negotiate a quotation with clients).
Among the notable projects he executed back then were:
A block of office at Apapa LGA, a project that belonged to a former Apapa LG chairman in Magodo – Shangisha, a duplex in Ilupeju/Obanikoro axis, a 2bedroom semi-detached in Otedola Estate phase2, another project in Omole beside Edegbe lines building, a storey building in Toyin street close to Abiola's house and many more.
"We were living in Ojuelegba then besides Zenith Bank, my father told me he wanted me to learn more about the terrazo work, so he attached me to one of his friends – *Ojo & Sons*, the main contractor to Zenith Bank who supplied the marble tiles in all the buildings of Zenith Bank in Lagos state and this was around 1998/99. I worked with them in Falomo, Ikoyi, Ogba, Ikeja, learnt more about how to do tilling, terrazo work. I can practically do terrazo mason work and all the marble works, apart from the bricklaying work I learnt through my father."
TERTIARY ACADEMIC LIFE
In 1999, I initially wanted to study Pharmacy in Obafemi Awolowo University (OAU) Ife, but it wasn't possible, then my father advised me to study what I have learnt but that wasn't my dream, I eventually re-enrolled for JAMB in year 2000, to study Building Technology and picked Federal Polytechnic, Ede in Osun State, so I got the admission, no. 3 on the list, and had to leave Lagos back to Osun State.
So the journey as a building student commenced and I was the most excellent student then because I knew the practicals. In fact, my Head of Department (HoD), Builder Taliat Yusuff (now a PhD) is still a lecturer at the Federal Polytechnic, in Ede.
I was very popular back then that even if you ask anybody of AKMODEL Builder Construction, they will just laugh, saying that, "that guy is rugged", that was when I started practicing what I learnt both from my father and the knowledge I acquired as a building student and they all complimented each other.
To be continued…