Turkiye Scholarships Without IELTS 2022 | Fully Funded Scholarships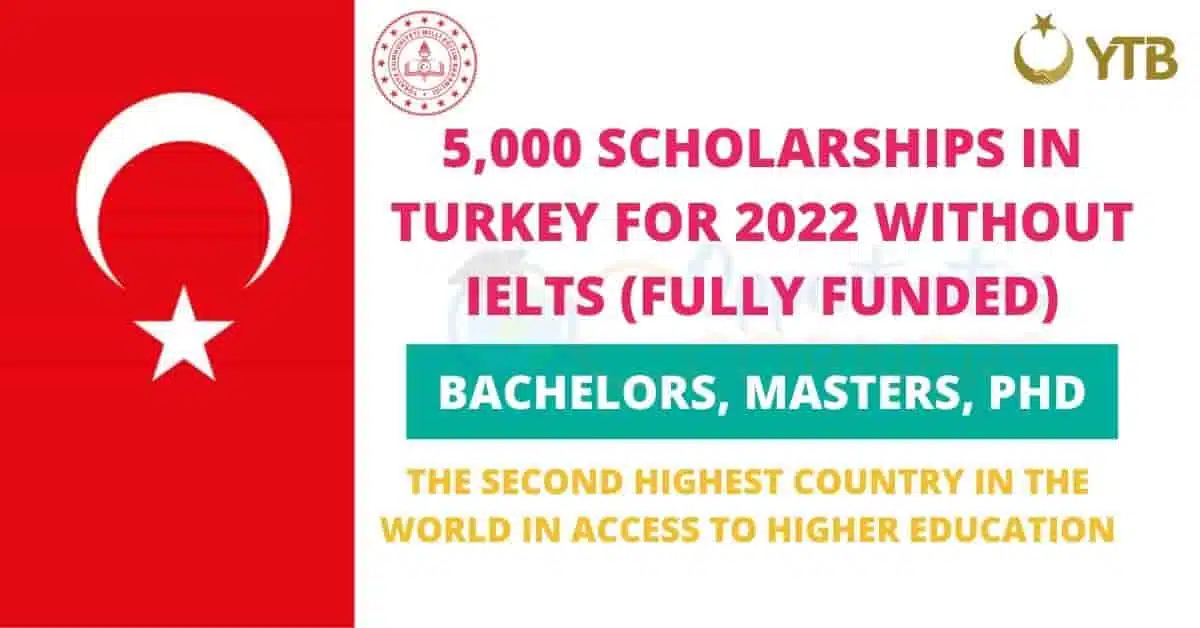 Newsone reports that the Turkey Scholarships 2022 are open in Turkish Universities. Start preparing your applications in advance nad to make sure all documents are completed. Turkey offers Scholarships for Bachelors, Masters, and PhD students. The Turkiye Government Scholarship accepts applications four times a year. This means you can submit a Turk Scholarship online application now.
Details About Turkiye Scholarships Without IELTS in 2022
Scholarship Country: Turkey
Degree Level: Bachelors, Masters, PhD
Financial Coverage: Fully Funded
Advantages of Scholarships in Turkey for International Students
No IELTS Requirements: This is one of the biggest benefits that you can save a lot of Money and can get Turkey Scholarships without IELTS.
No Application Fee: The Turkey Government Does not charge an application fee for international students.
Monthly Stipend: Bachelor's: 450 TL per month

Monthly Stipend: Master's: 600 TL per month

Monthly Stipend: Ph.D.: 900 TL per month

Airfare: This is a Responsibility of a Turkish Government
Health Insurance: The Turkish Government also provides Health insurance in the Scholarship.
Accommodation: Accommodation is also covered by the Turkish Government
Study in Turkey Without IELTS
Many international students are exempted from Giving IELTS for the Turkiye Scholarships. They offer English-taught academic programs. A number of Turkish Universities do not require you to submit English Language Tests.
İstanbul Medipol University
Beykent University
Bahçeşehir University
Fatih Sultan Mehmet University
İstanbul Zaim University
Istanbul Aydın University
Ufuk University
Atılım University
Çankaya University
Başkent University
Conditions to Study in Turkey Without IELTS
You have Earned your Last Degree in the English Medium Institute.
Applicants with English Proficiency Certificate are eligible to apply. Applicants can get their English Proficiency Certificate from their previous University.
In the letter university, it should be mentioned that the applicant has studied all his courses in English. You can use that letter instead of the IELTS certificate.
Selection Requirement
A Good application always stands with the best documents and Letters. There are 3 Pillars of Scholarships to focus on:
Eligibility Criteria
Students from all over the world are eligible for this scholarship program. No Restrictions on nationality
No age restrictions are applicable in any program.
List of Turkish Scholarships 2022
1. Turkiye Burslari Scholarship
5,000 Turkiye Burslari Scholarship in Turkey for all international students from around the world to study Undergraduate, Masters, and Doctoral Degree Programs in the most Prestigious Universities in Turkey. Around 5,000 Scholarships in Turkey this Year.
2. Kadir Has University Scholarships in Turkey
The Kadir Has University offers scholarships for undergraduate studies, Masters and PhD. Studies. Kadir Has University is located in Istanbul, Turkey. Studying in Turkey is one of the finest options and easy scholarships. IELTS and TOEFL are not needed now for this scholarship.
3. Sabanci University Scholarship
The Sabanci University is a Top Turkish University offering Bachelors, Masters, and PhD Degree Scholarships to International Students. Sabanci University is one of the most prestigious universities in Turkey.
4. Bilkent University Scholarship
The Bilkent University 2022 Term Scholarship is for Bachelors, Masters and PhD Degree Programs. Bilkent University is the Second Highest Ranked University in Turkey.
5. Koc University Scholarship in Turkey
The Koc University is now accepting applications for the Koc University Scholarship in Turkey 2021 to Study Fully Funded Masters or PhD Degree Programs for the Fall 2021 Year. Koc University is1st in Turkey and on top 31st in Asia.
6. Turkey Government Success Scholarship 2022
The Turkish Success Scholarship is Funded by the Government of Turkey. The Success Scholarship without IELTS is open to all participants from all around the world of any nationality. This Scholarship will be available for Bachelors, Masters, & Ph.D. Degree Programs.
Conclusion
Once you have submitted your application and applied online for the Turkiye Scholarships 20922 for the 2023 session or for the 2022 session, then please wait until their decision comes out or email to the university about your application.