VIDEO: Bullion Van Sighted At Tinubu's House in 2019 Missed Its Way – APC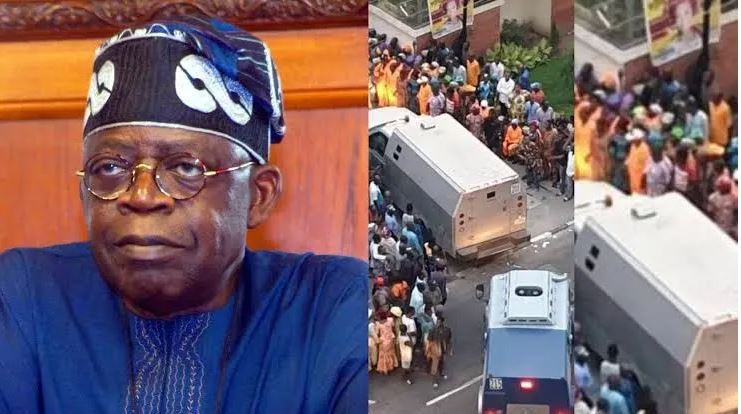 Newsone reports that the organising secretary of the All Progressives Congress (APC) in Lagos State, Nigeria's commercial city, Ayodele Adewale, has claimed that the money vans spotted in 2019 entering the house of Bola Tinubu, the presidential candidate of the party, only missed their way.
This online news platform understands that Adewale who made this comment during an interview on Arise TV's Morning Show on Thursday, January 26, 2023, said the vans that were spotted entering Tinubu's house on February 22, 2019, a day before the presidential election, had erroneously arrived there.
He said, "Some companies pay their staff in cash. The vans did not have any money in them; they missed their way and ended up there. Tinubu did not invite them."
Reacting, one of the programme's anchors, Rufai Oseni, quizzed Adewale over Tinubu's response to questions on the same money vans. Oseni read out Tinubu's February 23, 2019 reaction confirming the vans brought money to him.
Tinubu had earlier said, "Excuse me, is it my money or government money? I don't work for government; I am not in [any] agency of government. Let anybody come out to say I have taken any contract from the government of President Muhammadu Buhari in the last five years.
"They should prove it. I am on my own, and I am committed to my party. So, even if I have money to spend in my premises, what is your headache?
"Excuse me, if I don't represent any agency of government and I have money to spend. If I have money, if I like, I give it to the people free of charge, a0s long as not to buy votes.
"So, who are those watching my house and looking at bullion vans? They must be mischief makers, they report falsehood, their lies are numerous, and its because they are jobless."
Adewale maintained his position on the vans. He said he was with Tinubu when he gave the statement to the press in 2019, and that it was merely a statement to dispel rumours.
"I have told you; it was a missed identity of address," Adewale responded.
Adewale also said Tinubu was employing "swag" to get the attention of Nigerians and this was mistaken for incoherent speech.
Watch the video about the Bullion van sighted at Tinubu's house below…
"The bullion vans missed their way and mistakenly went to Bulaba Bourdillion's house!" — Ayodele Adewale, APC.

These people they know how to spin things 🤣🤣🤣🌽🌽🌽🌽🌽🌽😆😆😆 pic.twitter.com/7JBtAddIZH

— Peter Obi Stan supporter (@omoelerinjare) January 26, 2023
Meanwhile, Newsone Nigeria reports that the statements of the APC Organising Secretary drew chuckles from the Arise TV anchors.