WATCH As Dino Melaye Falls On Stage While Mocking Tinubu At PDP Rally [Video]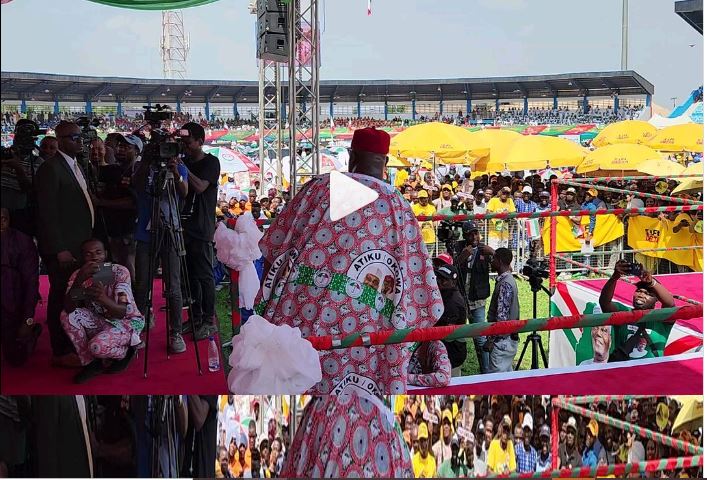 Newsone reports that a video has emerged showing the moment the spokesperson of the PDP Presidential campaign, Dino Melaye, fell on stage in mockery of Asiwaju Bola Ahmed, the APC Presidential candidate.
This online news platform notes that the Peoples Democratic Party (PDP) which is Nigeria's main opposition party, has Atiku Abubakar as its Presidential candidate while Bola Tinubu is the Presidential candidate of the All Progressives Congress (APC), Nigeria's main opposition party.
Dino Melaye took the mic at the PDP Presidential rally in Asaba, the Delta State capital on Tuesday, January 24, 2023, and led the viral 'Emilokan' song which was to mock Tinubu's health challenges. Some of the song's lyrics include 'Baba wey no well dey shout Emilokan''. It is widely known that 'Emilokan' is one of Tinubu's slogans which he created while seeking the support of APC delegates before the primaries.
In a way to demonstrate the song in choreography, Dino Melaye held the mic, behaving like he had shaky hands and 'fell' to the ground. It is also a known fact that Tinubu has been seen countless times with his hands shaking profusely, indicating a health challenge.
Meanwhile, Newsone Nigeria reports that since the 2023 Election campaign began, Dino Melaye and Femi Fani-Kayode, the spokesperson for APC presidential campaign have engaged in a war of words, dragging their principals on social media.
Dino Melaye Falls On Stage While Mocking Tinubu Video…