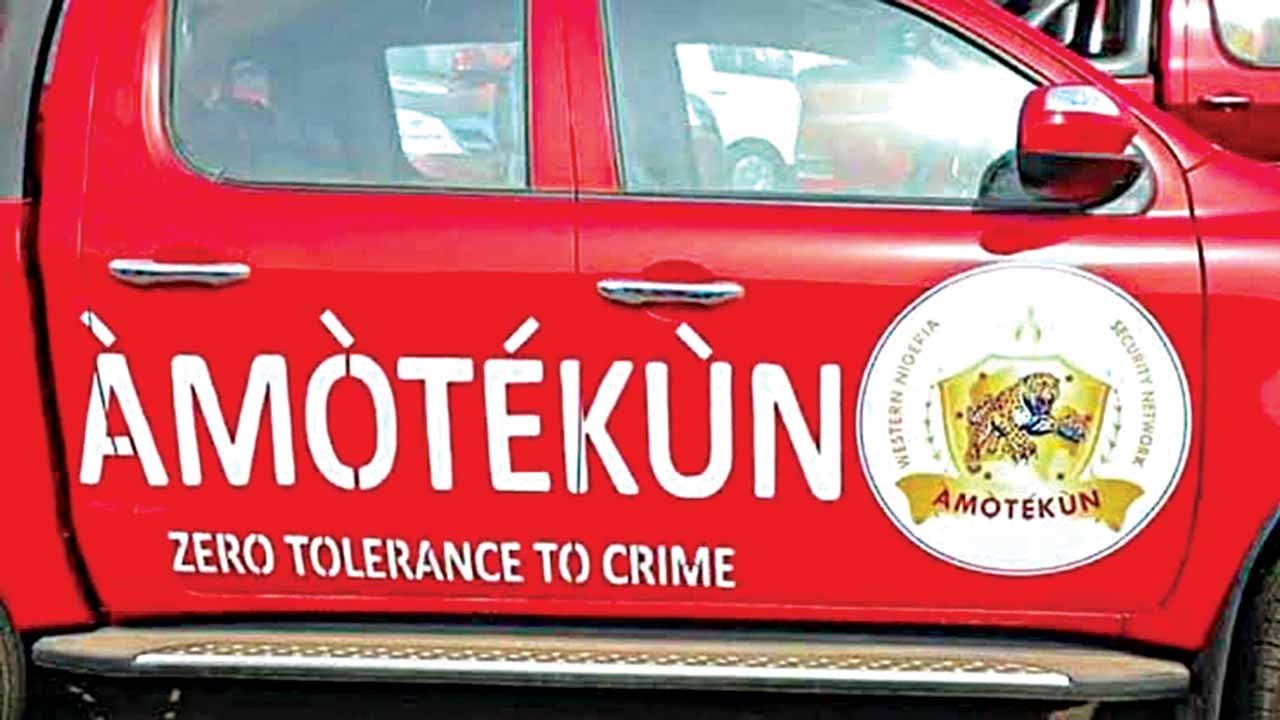 Some Nigerians alleged to be Amotekun officials have been caught training inside a fire, Nigeria's burgeoning online news platform, NewsOne Nigeria understands.
NewsOne Nigeria reports that governors from Oyo, Ogun, Osun, Ondo, Ekiti, and Lagos States had in Ibadan, the Oyo State capital established the security outfit.
The southwest governors explained that Amotekun was established to tackle the issues of insecurity in the Southwest, but the Attorney General of the Federation and Minister of Justice, Abubakar Malami, had asked south-west governors to disband the security outfit.
AGF Malami had said that no other authority at the state level, whether the executive or legislature has the legal authority over defence.
"The setting up of the paramilitary organization called "Amotekun" is illegal and runs contrary to the provisions of the Nigerian law," Malami had said in reaction to the establishment of the security outfit for the southwest region.
Despite the stance of the AGF on Amotekun, Nigeria's Federal Government and Southwest Governors January 23, reached an agreement on Operation Amotekun.
This was revealed by Laolu Akande, Senior Special Assistant, Media and Publicity to Vice President Yemi Osinbajo, on his twitter handle, writing:  "News Flash: FG, Southwest Governors agree on Amotekun."
News Flash: FG, Southwest Governors agree on Amotekun

— Laolu Akande (@akandeoj) January 23, 2020
The Presidential aide later issued a statement on the meeting, saying the meeting was at the instance of the Governors who had asked to see President Muhammadu Buhari over the controversy surrounding the Amotekun Initiative.
"However due to the President's foreign engagement, he asked the Vice President to host the meeting. The meeting was very fruitful and unanimous resolutions were made on the way forward.
"Having regard to the need for all hands to be on deck in addressing the security concerns across the country, it was agreed that the structure of Amotekun should also align with the Community Policing strategy of the Federal Government.
"It was also agreed that necessary legal instruments will be put in place by each of the States to give legal backing to the initiative and address all issues concerning the regulation of the security structure," Akande had said in the statement.
However, barely a month after the agreement was reached, a video has emerged on the internet of some individuals sitting on fire, with some saying they are Amotekun officials, a claim which NewsOne Nigeria could not substantiate as at the time of filing this report.
This burgeoning online news platform learned that the training scene held in Ìlá Òràngún, an ancient city in Osun State, southwest Nigeria.
Watch the shocking video below.