Governor El-rufai Meets Dethroned Emir Sanusi In Nasarawa (Photos)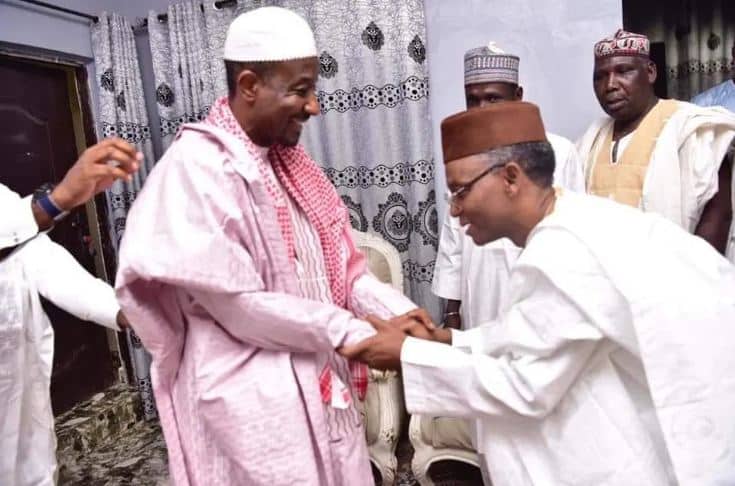 Dethroned Emir Sanusi, is currently in a meeting with Governor Nasir El-Rufai of Kaduna State
NewsOne Nigeria reports that the meeting of the dethroned Emir of Kano, Muhammad Sanusi II and Governor El-Rufai is taking place in Awe local government area of Nasarawa State,where Sanusi currently resides.
This burgeoning online news platform understands that the meeting is coming after the Kaduna State Governor gave the dethroned Emir of Kano two appointments after he was sacked from office by Governor Abdullahi Ganduje's led Kano State government because of politics.
Governor El-Rufai who is a close friend to the dethroned Emir first appointed him into the board of the Kaduna State Investment Promotion Agency, KADIPA and later appointed the dethroned Emir as the chancellor of Kaduna State University.
NewsOne Nigeria recalls that the Kano State government on Monday, March 9, dethroned Emir Muhammad Sanusi II. Emir Sanusi's dethronement followed the Kano State Council Executive meeting presided over by the Governor Ganduje on Monday, March 9.
A statement by the Secretary to the State Government, Alhaji Usman Alhaji, said Emir Sanusi's dethronement was due to his "total disrespect to lawful instructions from the office of the governor and other lawful authorities.
"The Kano State Executive Council under the chairmanship of His Excellency, the governor of Kano, Dr Abdullahi Ganduje has unanimously approved the immediate removal/dethronement of the Emir of Kano Emirate, Muhammad Sanusi II," the statement said.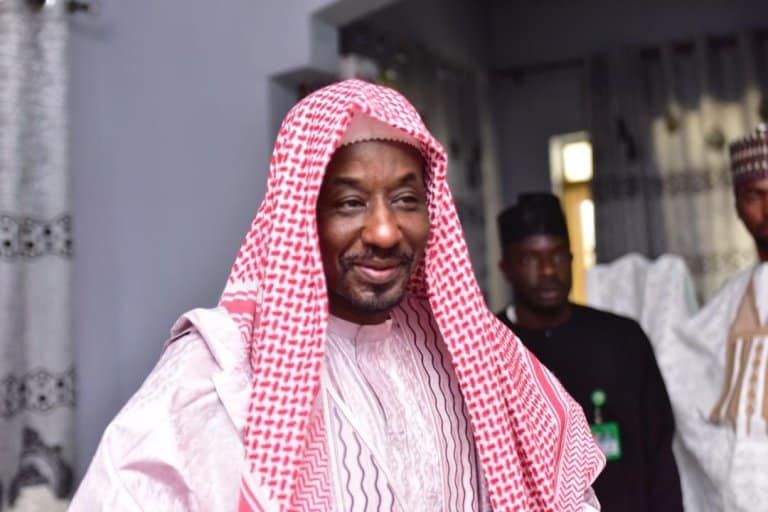 "The Emir of Kano is in total disrespect to lawful instructions from the office of the governor and other lawful authorities, including his persistent refusal to attend officials meetings and programmes organised by the government without any lawful justification which amount to total insubordination.
"It is on record and in so many instances Malam Muhammad Sanusi II has been found breaching part 3, section 13 (a-e) of the Kano State Emirate Law 2019 and which if left unchecked will destroy the good and established image of the Kano Emirate.
"This removal is made after due consultation with the relevant stakeholders and in compliance with part 3, section 13 of the Kano State Emirate Law 2019 and other reasons stated above.
"The removal was reached in order to safeguard the sanctity, culture, tradition, religion and prestige of the Kano Emirate built over a thousand years.
"His Excellency, Dr Ganduje calls on the general public to remain calm, law-abiding and to go about their normal businesses. While a new Emir of Kano will soon be appointed," the statement added.
Reacting to his removal as the Emir of Kano, while speaking with Alhaji Abubakar Ahmed Sabo, the traditional ruler of Loko in Nasarawa state, northern Nigeria, disposed Emir Sanusi advised traditional rulers to know the way to relate with politicians, adding that he was removed as Emir because of politics.
The Nasarawa traditional ruler who disclosed this, said: "He advised that we should know the way to relate with politicians because there is nothing that brought this dethronement except politics."
Asked whether Sanusi, a former governor of the Central Bank of Nigeria (CBN) had any regret in his actions which were suspected to have brought about his dethronement, Sarki Sabo said, the dethroned Emir of Kano does not have any regret, "because he said he did not commit any offence."