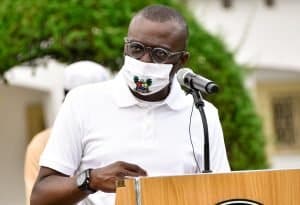 Drugs Lagos Coronavirus patients are treated with have been revealed amid Coronavirus in Nigeria.
NewsOne Nigeria reports that Lagos state government through the Medical Director of the Infectious Disease Hospital in Yaba, Dr Bowale Abimbola, disclosed the type of drugs used for Coronavirus patients in the state in order to ensure their recovery from the pandemic in an interview with EkoHot Blog on Thursday.
Drugs Lagos Coronavirus Patients Are Treated
According to the Medical Director of the Infectious Disease Hospital in Yaba, the COVID-19 patients are treated with a cocktail of drug, adding that one of these cocktails is an antiviral drug.
The Medical doctor stressed that significant rate of recovery has been recorded with the use of the antiviral drug, adding that most patients by the eleventh day of their admission into medical facilities and isolation centre for Coronavirus (COVID-19) treatment would have become negative.
His words: "for the patients, we admit now, there is a cocktail of drug that we give to them, one of them is an antiviral drug, and we discovered that people get well on this medication, by day 11 or 12 most of them are discharged because they would have tested negative and this is working for us."
Doctor Abimbola added that the average length of stay at the Yaba Infectious Diseases Center is between 11 to 12 days, adding that there are plans by the state government to do "experimental study using Chloroquine and that will commence very soon but for now we have an antiviral drug we are using and it's very effective."
Asked if it was possible for persons who had recovered from Coronavirus to contract it again, the seasoned doctor said the probability of such occurrence is very slim because "it is expected that once you have COVID-19 you develop some antibodies, there is one that's called IGG and we also have IGM that's longer, with that IGM it is expected that you have protection for a while but how long that protection will last is what nobody can say."
On what the probability is for Coronavirus patients on the verge of recovery to relapse, the Medical Director of the Infectious Disease Hospital in Yaba disclosed that such situations do not exist.
"We don't have such, even those that came here in severe form, meaning they have difficulty in breathing, and then we have to give them oxygen and all that, most of them once you give them an oxygen, they get better with time, we get to remove the oxygen and they go home, a few people who come in in very critical conditions are sent to ICU, some of them actually passed on, but once you come in early, especially with those with mild and moderate symptoms or no symptoms at all, we place them on medication and about the 12th day they are discharged," he added.