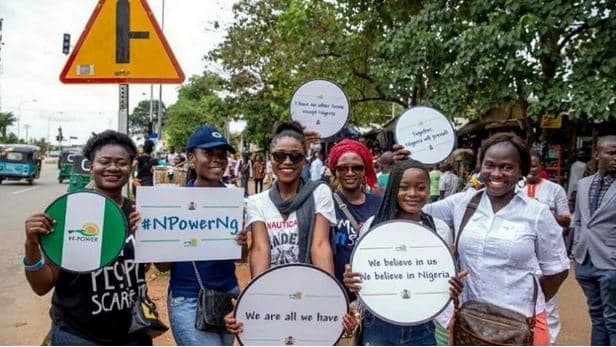 Npower June and July Stipend 2020 delayed payment has attracted Aisha's attention.
NewsOne Nigeria reports that Npower beneficiaries are yet to receive Npower June stipend 2020 and Npower July stipend 2020.
Displeased with the delayed payment of Npower stipend, a rights activist and co-founder of the Bring Back Our Girls (BBOG) movement, Aisha Yesufu, has asked disengaged N-Power protesters to meet with other agitators to "protest on the same day."
The call by Aisha is coming at a time Npower beneficiaries are still lamenting the delay in payment of Npower June stipend and Npower July stipend.
Aisha's call is coming after several beneficiaries of the Federal Government's N-Power programme protested in Abuja, Nigeria's capital, on Thursday 23rd July 2020, over unpaid Stipends and disengagement from the famed programme by Federal Government.
After the last protest by the Npower beneficiaries, reports have emerged suggesting that N-Power beneficiaries that protested their disengagement are rumoured to have scheduled another protest, this is even as the 36-state and FCT N-Power Representatives Forum on Wednesday night asked volunteers to disregard the information.
According to the N-Power Representatives Forum, "in order to ensure the safety of volunteers across the states, no volunteer should gather anywhere for protest or rally at the moment."
#RevolutionNow protests took place in some parts of the country on Wednesday, this came after hundreds of youth across Katsina State converged in Katsina town in June to protest the killings and wanton destruction by gunmen in their respective localities.
Like #RevolutionNow protests, Christian leaders of different denominations took to the streets of Kaduna State, northern Nigeria, on Sunday to protest against the killings in the state, accusing President Muhammadu Buhari of allowing the situation to escalate.
Reacting to the several protests carried out by protesters in Nigeria recently, Aisha, who is a critic of President Buhari's "Next Level government", stressed that agitators can "come together to get result."
"Why can't all the different agitation meet and protest on the same day? Npower want to protest tomorrow, Arewa lives did a few days ago. You don't have to like each other but you come together to get result. You think these politicians like each other?" Aisha questioned amid delay  in payment of Npower June and July Stipend 2020.