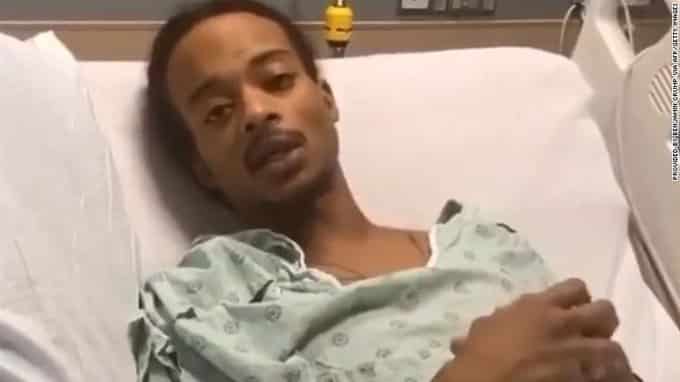 A decision has been taken on Rusten Sheskey, the officer who shot Jacob Blake.
NewsOne Nigeria reports that Rusten Sheskey, a White officer, who shot Jacob Blake, a 29-year-old Black man, seven times in the back while responding to a domestic incident on August 23, 2020, will not face charges in the shooting of Jacob Blake, Kenosha County District Attorney Michael Graveley announced Tuesday, January 5.
This online news platform understands that Jacob Blake survived the shooting but was left paralyzed from the waist down.
"It is my decision now that no Kenosha law enforcement officer will be charged with any criminal offense based on the facts and laws," Graveley said Tuesday.
A report filed by CNN says Tuesday's announcement comes as anger continues to mount across the country at the repeated deaths of Black people at the hands of police. The summer of 2020 saw protests — some of which turned violent — calling for police reform and an end to police brutality, sparked by the deaths of George Floyd, Breonna Taylor and others.
No Kenosha police officers will be charged in the Jacob Blake case.

Wow. Just – wow… pic.twitter.com/rjYNWf1DNT

— Rex Chapman🏇🏼 (@RexChapman) January 5, 2021
The report said Graveley announced that there will be no charges for the other two officers involved in the incident. They were identified by the Wisconsin Justice Department in September as Officers Vincent Arenas and Brittany Meronek. He added that Blake will also not face charges.
Sheskey told investigators that he used deadly force during the chaotic encounter because he was afraid Blake, while attempting to flee the scene, was trying to kidnap a child in the backseat of the vehicle.
The Wisconsin Department of Justice had said Blake had a knife in his possession and the weapon was found on the floorboard of his vehicle. Blake himself told authorities he possessed a knife, Graveley said.
"Jacob Blake, while actively resisting, arms himself with a knife," Graveley said, adding that he's heard supports of Blake say he was unarmed. "It's absolutely incontrovertible that Jacob Blake was armed with a knife during this encounter … All the discussion that he's unarmed contradicts even what he himself has said multiple times."
What Jacob Blake's family attorney said…
An attorney for Blake's family disputed that Blake posed a threat.
"There was no point in the video that is articulable for an officer to say that he was under harm at that particular point. I think that's completely bogus and I think that is just a rationalization to try to show what is really, essentially, an intentional act," attorney B'Ivory LaMarr said during a press conference shortly after Graveley's announcement Tuesday.
"It's not against the law to have a knife, people have knives for a variety of different reasons. Jacob Blake is privy to having a knife."
Graveley said he called on US attorneys office to do a parallel civil rights investigation that would be a separate investigation with its own conclusion.