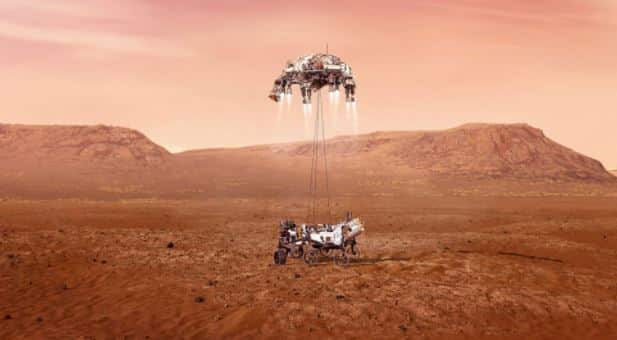 NASA perseverance has successfully touched down on Mars.
NewsOne Nigeria understands that after a nerve-wracking seven-minute descent, NASA's Perseverance rover successfully touched down on Mars on Thursday afternoon, as part of one of the agency's most ambitious deep-space missions to search for signs of ancient life on the red planet.
"What an amazing day," a joyful Steve Jurczyk, NASA's acting administrator, said shortly after the landing was confirmed.
"What an amazing team, the work through all the adversity and all the challenges that go with landing a rover on Mars, plus the challenges of COVID … just an amazing accomplishment," he added.
NASA"s #PerseveranceRover successfully and safely lands on Mars, first images drop#CountdownToMars #Mars2020 #Perseverancepic.twitter.com/2ecMOwdlqk

— Maiestas Ⓜ️ (@Ebenezer_Peegah) February 18, 2021
Within minutes of landing, the rover, nicknamed "Percy," sent its first image back to Earth.
The rover's voyage will also help pave the way for future human exploration of Mars.
Perseverance launched from the Florida coast last July, and after a seven-month journey through the cosmos, successfully to touched down on Mars' Jezero Crater at 3:55 p.m. ET on Thursday.
Thursday's landing was the culmination of over a decade of work, but there was no guarantee the landing would go smoothly — only about 50% of all previous Mars landing attempts have succeeded, according to NASA.
"Mars is hard and we never take success for granted," Thomas Zurbuchen, the associate administrator for the Science Mission Directorate at NASA, said during a Tuesday news conference.
Zurbuchen added that they will land on Mars "with cameras on, so the entire world is inspired with us as we do new and tough things and demonstrate these new technologies."
"Because whether it's on the red planet or here at home on our blue marble, science can bring us together and create solutions to challenges that seem impossible at first," Zurbuchen said.
"NASA works. When we put our arms together and our hands together and our brains together, we can succeed. This is what NASA does."@NASAJPL chief engineer and landing veteran Rob Manning celebrates #NASAPersevere's successful #CountdownToMars: pic.twitter.com/Bo74pC4xLO

— NASA (@NASA) February 18, 2021