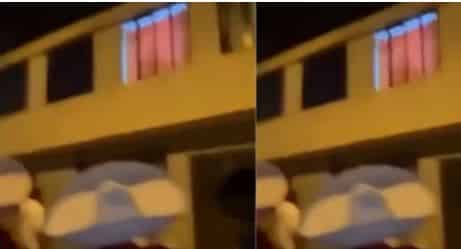 A Man who went to propose to his girlfriend met her giving blowj*b.
NewsOne Nigeria reports that a man got the disappointment of his life after he contracted and took a music band to his girlfriend's house to give her a surprise marriage proposal only to meet her busily giving another man a blowj*b.
This online news platform understands that the man and the musicians could be seen standing downstairs while singing without the lady knowing in a dramatic video circulating online.
However, the man and the musicians could see her through the glass window of her apartment on the first floor of a storey building engaging in serious sexual activity with another man.
The people are heard in the video which has a Latino setting, expressing disappointment at the lady's conduct.
Although the music band had already started singing to pave the way for the proposal, they had to abruptly stop singing after the disturbing discovery.
The video also shows the moment the lady, having heard the music downstairs, lifted the curtains to ascertain what was going on and as soon as she spotted her boyfriend among the people standing downstairs through the glass window, she quickly closed the curtains.
Watch the video below…