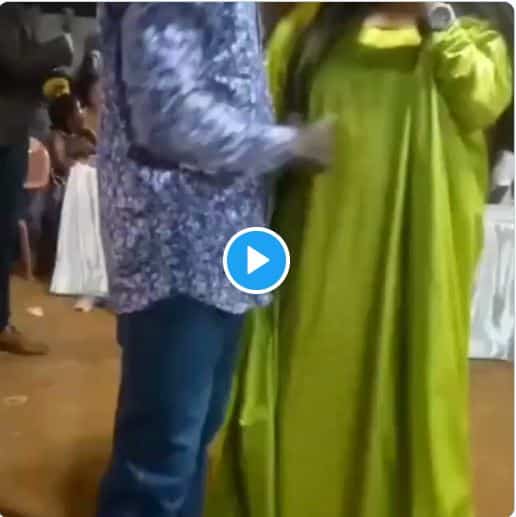 Ghanaian female Pastor has been spotted giving a man breast to suck for healing.
NewsOne Nigeria reports that a video has emerged online, showing the moment an alleged Ghanaian female Pastor offered her breast to a male church member to suck for an alleged miracle.
In the video sighted by our reporter, the supposed Ghanaian female Pastor could be seen removing her breast from her bra and offering to the alleged male church member who eagerly grabbed it and sucked.
Though NewsOne Nigeria cannot authoritatively state if the said lady in the video is a Pastor, the video which was uploaded on the micro-blogging site, Twitter, claimed the lady in the video is a pastor.
The video which was uploaded by a twitter user @gossipboyz11, was captioned: "A female Pastor in Ghana using her breast to heal her church members."
The gossip website added in another caption: "May not be a pastor, however video was sent to us saying its a pastor."
Watch the video of the alleged Ghanaian Female Pastor below…
A female Pastor in Ghana using her breast to heal her church members. 🤦🏾‍♂️🤦🏾‍♂️

Ziyech, #Bitcoin, Kepa, Igbo, Southern Nigeria, NYSC pic.twitter.com/GNpiTVzYAn

— GossipBoyz (@gossipboyz11) April 17, 2021

Meanwhile, a study carried out by a German scientist, Dr Karen Weatherby, and published in the New England Journal of Medicine, has revealed that staring at women's breasts is healthy and also elongates the life span of men.
The study, which was carried out over a period of five years, involved 500 men, half of whom were instructed to stare at women's breasts in a lustful manner for no less than 10 minutes every day.