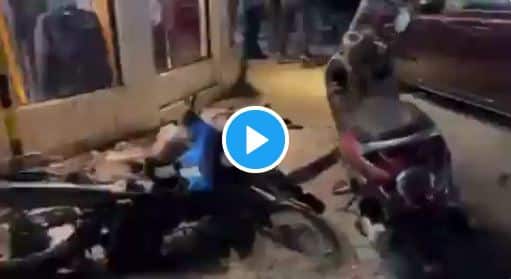 Former President has been hospitalized after a bomb exploded in his house.
Newsone Nigeria reports that a former Maldives president and current Parliament Speaker Mohamed Nasheed was injured in a blast outside his family home on Thursday, police said in a statement.
"Following an explosion … Speaker of Parliament President Mohamed Nasheed has sustained injuries and is currently receiving treatment at ADK Hospital [in the capital Male]," the statement said on Thursday.
This online news platform understands that photos circulated on social media showed a ripped up motorcycle at the scene but police did not say whether the blast was an assassination attempt.
Maldives Home Minister Imran Abdulla told a local television channel that Nasheed's injuries were not life-threatening and that the government will receive the assistance of foreign agencies in its investigation.
Meanwhile, an unidentified Maldivian government official told AFP news agency by telephone that "Nasheed escaped an assassination attempt".
"He is injured, but his condition is stable."
Former President Nasheed injuries
A family member said Nasheed, 53, had sustained several wounds.
"They have put him under anaesthesia. There is a deeper cut on one of his arms," the family member told AFP, speaking on condition of anonymity.
The family source said Nasheed was responsive and spoke with doctors as he was taken in with shrapnel injuries.
At least one of his bodyguards was also taken to hospital. State TV channel PSM reported that a foreign tourist was also injured.
In a statement on Twitter, Foreign Minister Abdulla Shahid said: "Cowardly attacks like these have no place in our society. My thoughts and prayers are with President Nasheed and others injured in this attack, as well as their families."
It was learned that the explosion took place as the former President was getting into his car in the capital Male, an official from his Maldivian Democratic Party (MDP) told AFP by telephone.
"It looks like some sort of an improvised explosive device, possibly rigged up to a parked motorcycle," the official said adding that an investigation was under way.
Residents in Male said the blast was heard across the capital.
India's Foreign Minister Subrahmanyam Jaishankar said he was "deeply concerned" at what he described as an attack on Nasheed.
"Wish him a speedy recovery. Know that he will never be intimidated," Jaishankar said on Twitter.
Watch the video of the bomb blast at the Former President's house below…
BREAKING: Maldives Speaker of Parliament and Former President Mohamed Nasheed has been rushed to ADK Hospital after an explosion went off as he was about to enter his car pic.twitter.com/ZVgwW98Pua

— Insider Paper (@TheInsiderPaper) May 6, 2021