Uche Mefor has exposed Nnamdi Kanu secrets and sponsors.
Newsone reports that Uche Mefor, who floated a new radio station called: "Biafra Human Rights and Freedom Radio (BHFR)"late last year after quitting IPOB, was the Deputy Leader of the Indigenous People of Biafra (IPOB), a pro-Biafra group headed by Nnamdi Kanu, which is seeking secession from Nigeria.
In a series of posts on social media network, Facebook on Sunday, May 16, Newsone understands that Uche Mefor exposed Kanu, saying that the IPOB leader has been working with politicians.
Nnamdi Kanu has collected money from politicians also worked with them – Uche Mefor says
This online news platform understands that Uche Mefor challenged Nnamdi Kanu to a public oath to prove that he has never collected money from any politician without mentioning whether in Nigeria or overseas where the IPOB leader is based..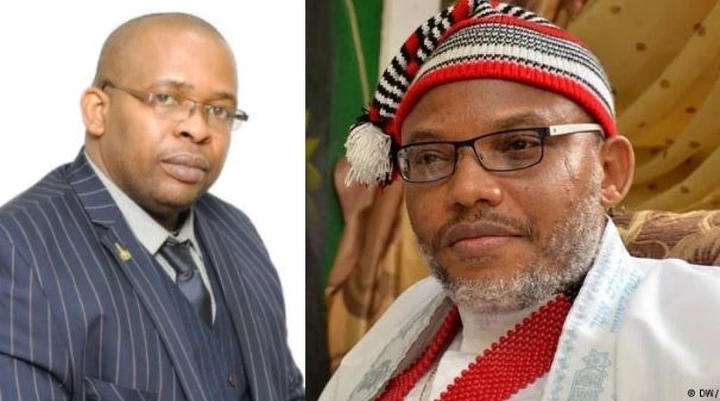 Newsone recalls that one of the reasons Mefor's relationship with Kanu hit the rocks was because he disagreed with the IPOB leader on the modus operandi of the controversial organization which eventually led to his exit from the pro-Biafra group in November 2020.
Taking to his known Facebook page, Mefor whose Facebook name is now Uche Okafor-Mefor on the social media app, insinuates that Kanu is a hypocrite.
The former IPOB Deputy leader wrote: "If Nnamdi Kanu is righteous and whiter than white as he claims, l challenge him to a public oath anywhere and by every means that he never took money from any politician and never worked with them as he falsely accuses others," Mefor opined.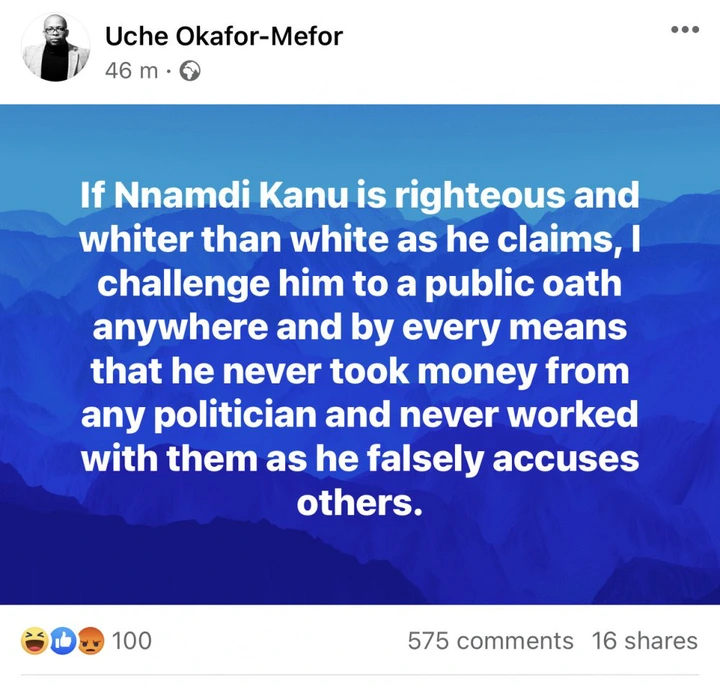 Meanwhile, before this accusation, Mefor had on Saturday claimed that Kanu "betrayed himself by presiding over and inspiring a system of lying, demonizing and blackmailing genuine people around him".
Newsone reports that the former IPOB Duputy leader was responding to a post by a supporter of Kanu who aimed a jibe at him.
Below is Uche Mefor's post…
WHATEVER GOES UP UNDER THE SUN MUST COME DOWN  AND WHATEVER LIES HIDDEN SHALL BE UNVEILED NATURALLY FOR NATURE ABHORS A VACUUM
The spiritual implications of Kanu's treachery shall boomerang in the physical and it is already manifesting to such an extent that pretence and blackmail will even make it clearer. You may try to kick and kill those you perceive as real and imagined enemies but this will not stop nature to take its course.
I take this post below by a misguided lost soul inspired by Kanu as a trajectory and an excursion into the mindset of Kanu himself and then his commissioned, brainwashed , extremists followers and those native doctors and fake seers within and outside IPOB that delivered only 'bad/evil fortunes' and that that finally turned him into a monster that was and is still busy destroying every genuine  persons around him who were advising him sincerely and conscientiously. They badly deceived and led you astray, Kanu. 
In the midst of all these, therefore, the ultimate question is : if many of us who sacrificed our reputation and risked everything to protect Kanu, made enemies because of Kanu, preserve IPOB, and kept it intact when Kanu was in prison (and despite that no decision was taken without his knowledge and  approval ), IPOB under Kanu would have been non-existent and Kanu would not have been where he is today. 
KANU, I ONCE OR TWICE TOLD YOU THAT THE DAY I AM NO LONGER AROUND YOU, THAT'S WHEN YOU WOULD KNOW THE DEPENDABLE ALLY YOU HAVE IN ME.
If Kanu was not betrayed when he was helpless, is it when he has his total freedom that he would be betrayed? Truth is that Kanu betrayed himself by presiding over and inspiring a system of  lying, demonizing and blackmailing genuine people around him (putting them in harm's way) ; and the implications of that betrayal remain indeterminate.