Nigeria Records 12 New COVID-19 Cases, See All Affected States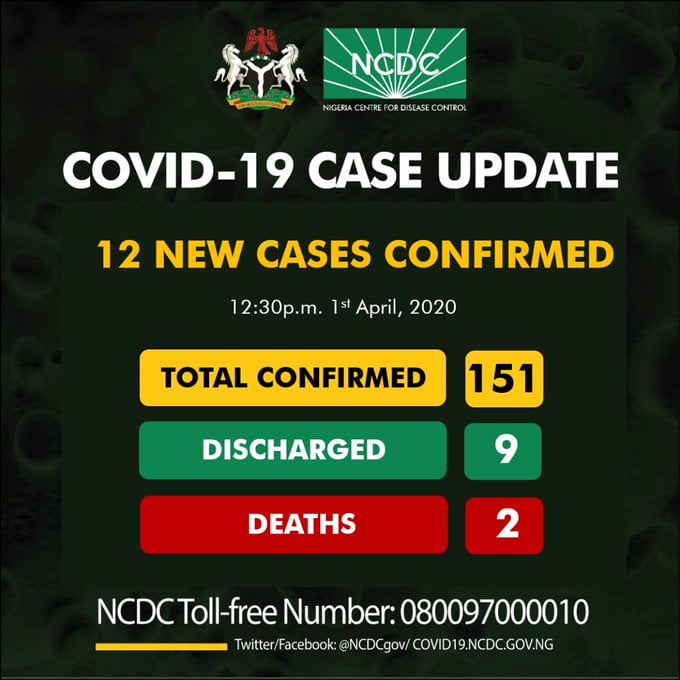 Nigeria has recorded 12 new COVID-19 Cases, with Coronavirus in Nigeria rising to 151 cases.
Newsone Nigeria reports that the Nigeria Centre for Disease Control (NCDC) confirmed the 12 new COVID-19 cases in a tweet on the micro-blogging site, Twitter on Wednesday afternoon, April 1.
This burgeoning online news understands that of the twelve coronavirus cases recorded by Nigeria and confirmed on Wednesday afternoon by the NCDC, nine were detected in Osun State, two in Edo State and one in Ekiti State, all southern Nigeria.
Newsone Nigeria reports that the 12 new COVID-19 cases recorded by the NCDC, means that the number of cases of coronavirus in Nigeria has risen from one hundred and thirty-nine (139) to one hundred and fifty-one (151).
"As at 12:30 pm 1st April, there are 151 confirmed cases 9 discharged 2 deaths For a breakdown of cases by states in real-time- http://covid19.ncdc.gov.ng Currently; Lagos- 82 FCT- 28 Osun- 14 Oyo- 8 Ogun- 4 Edo- 4 Kaduna- 3 Enugu- 2 Bauchi- 2 Ekiti- 2 Rivers-1 Benue- 1,"the NCDC tweeted.
Twelve new cases of #COVID19 have been reported in Nigeria; 9 in Osun, 2 in Edo and 1 in Ekiti State

As at 12:30 pm 1st April there are 151 confirmed cases of #COVID19 reported in Nigeria. Nine have been discharged with two deaths pic.twitter.com/SVxZ4H3pBd

— NCDC (@NCDCgov) April 1, 2020
Meanwhile, Nigeria has recorded two coronavirus deaths and have discharged nine patients who recovered from the COVID-19 disease.