Ronaldo Blasts Man United In Explosive Piers Morgan Interview [Video]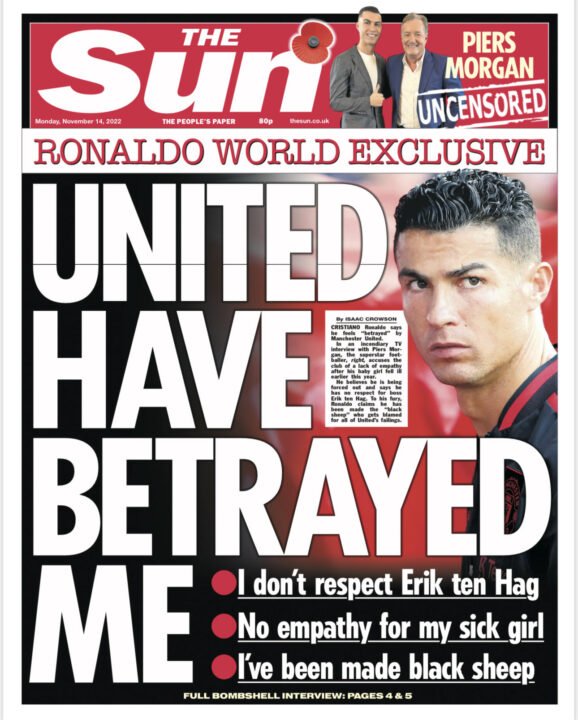 Ronaldo has berated Man United in an Explosive Piers Morgan Interview.
Newsone reports that Cristiano Ronaldo sat down for a sensational 90-minute TV interview with Piers Morgan where the footballing superstar spoke out amid a turbulent season with English Premier League giants, Manchester United.
This online news platform understands that Manchester United superstar Cristiano Ronaldo has broken his silence on his situation at Old Trafford after being linked with a transfer exit to another English Premier League side, Chelsea in the summer.
Newsone Nigeria reports that Ronaldo made it clear in the Explosive Piers Morgan Interview that he wanted to leave the club during the summer transfer window, but United refused to allow the 37-year-old striker to leave the club.
This online news platform recalls that the five-time Ballon d'Or winner returned to Manchester last summer after leaving Juventus and scored 24 goals in just 39 appearances in all competitions.
Chelsea were one of many clubs to be linked with a move for Ronaldo over the summer, with Todd Boehly having met his agent Jorge Mendes over a potential deal. Former Blues boss Thomas Tuchel shot down the idea of signing the United ace, a decision which contributed to his eventual sacking and now Ronaldo has opened up on his current situation at Old Trafford.
In an exclusive TV interview with Piers Morgan Uncensored, via The Sun, Portugal captain Cristiano Ronaldo admitted to feeling 'betrayed' by Erik ten Hag and some senior figures at United. Asked if United are trying to force him out, the 37-year-old said: "Yes. Not only the coach but the other two or three guys that are around the club."
When asked if they are at the senior executive level, Ronaldo added: "Yes. I felt betrayed."
"Since Sir Alex Ferguson left I saw no evolution in the club, the progress was zero."

Don't miss Piers Morgan's 90 Minutes with Ronaldo. Wednesday and Thursday at 8pm on TalkTV.@cristiano | @piersmorgan | @TalkTV | #PMU pic.twitter.com/VextyEu7f9

— Piers Morgan Uncensored (@PiersUncensored) November 13, 2022
The Portugal captain Cristiano Ronaldo continued by discussing the idea that United are actively trying to get rid of him, despite the Portuguese superstar being considered one of the greatest players to have played. Ronaldo said: "Honestly, I shouldn't say that I don't know but listen, I don't care.
"People should listen to the truth. Yes I feel betrayed and I felt that some people they don't want me here. Not only this year but last year too."
Ronaldo finished as United's top scorer last season with 24 goals in all competitions, but the Red Devils only managed to finish sixth in the Premier League.
This led to a change of manager over the summer, with Ten Hag arriving on a long-term contract from Ajax.
Ronaldo and Ten Hag's relationship has appeared strained since the start of the season after the Portuguese star told United he wanted to leave in July. He did not get his move, and has gone on to start just four league games for the side this term.
He has openly shown his frustration at times, refusing to come on as a substitute against Tottenham last month before storming down the tunnel and leaving Old Trafford prior to the full time whistle.
This led to him being banished from the squad for the next game against Chelsea, and despite being welcomed back into the fold since then, Ronaldo has revealed that he has no time for Ten Hag.
'I don't have respect for him because he doesn't show respect for me,' Ronaldo said when speaking about Ten Hag. 'If you don't have respect for me, I'm never gonna have respect for you.'
Watch as Ronaldo hits Man United and Eric Ten Hag in an Explosive Piers Morgan Interview below…
"I feel betrayed."

EXCLUSIVE: Cristiano Ronaldo tells Piers Morgan he feels like he's being forced out of Manchester United in an explosive interview.

90 Minutes with Ronaldo. Wednesday and Thursday at 8pm on TalkTV.@cristiano | @piersmorgan | @TalkTV | #PMU pic.twitter.com/nqp4mcXHB0

— Piers Morgan Uncensored (@PiersUncensored) November 13, 2022