Violent Protest Rocks Ibadan, Governor's Office Attacked [Video]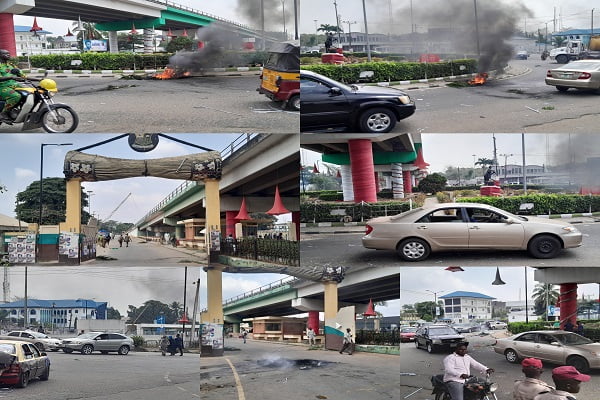 Newsone reports that hundreds of protesters have stormed the Oyo State Secretariat, Agodi Ibadan in Oyo State, southwest Nigeria.
This online news platform understands that a police officer attached to the Governor's office was injured in an attack by the protesters.
The Secretariat gate was locked following reports pockets of protests had rocked different parts of the capital city.
The protesters, who came with sticks, wood, and other dangerous weapons, forced the two main gates of the Secretariat open, making security operatives on the ground to take cover.
The CPC of APC showing the ACN of APC shege. Okan yin oni baale. If you know you know.

Mind you, there's riot at Secretariat, Iwo road, Monatan axis, Ibadan atm

Vote Peter Obi for president of Nigeria #PeterObiForPresident2023

APC Governors| Wike| Lagos Rec| Nigerian army pic.twitter.com/V9nvTRgjRa

— Alákòwé (@alakowe_e) February 3, 2023
With many workers and people within the Secretariat scampering for safety, the protesters headed straight to the Governor's office where they attempted to force the gate open.
The resistance by the officers on duty, who fire blank shots into the air, made the protesters throw stones and other dangerous weapons into the Governor's office.
Violent protest rocks Ibadan over new naira and petrol scarcity.

Alex Otti APC Governors Lagos REC Ibadan Northern Christians pic.twitter.com/PZZQIuMqBq

— Abiodun of Lagos (@idofoi) February 3, 2023
They destroyed property at sight with one of the suspects was arrested.
Newsone Nigeria reports that the swift intervention and backup from the men of Operation Burst and the Police Team saved the situation that would have degenerated into a major crisis.
VIDEO: Protesters attack Oyo Governor's office, destroy items pic.twitter.com/IeVOY2LnCg

— The Nation Nigeria (@TheNationNews) February 3, 2023