Coronavirus: Dangote, Yahaya Bello, Lai Mohammed, List Of Top Nigerians In Contact With Abba Kyari, Bauchi Governor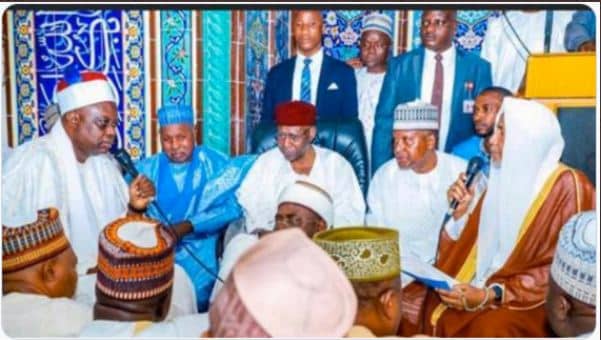 Dangote, Yahaya Bello, Lai Mohammed and other top Nigerians have had contacts with coronavirus infected Abba Kyari and Bauchi governor.
Newsone Nigeria had reported earlier that Abba Kyari, the Chief of Staff to President Muhammadu Buhari tested positive for coronavirus(COVID-19).
This burgeoning online news platform understands that reports in the Nigerian media quoted a presidential source privy to the development have said that Kyari, who had recently returned from Germany through Egypt, did not show symptoms of COVID-19.
Newsone Nigeria reports that the Chief of Staff was said to have isolated himself upon return from the trip on suspicion that he may have been exposed to the virus.
The presidency source said Kyari "called a few close friends to inform them of his status yesterday but was advised to not make his status public until the President's test result was out."
On the other hand, President Buhari was said to have however tested negative for the virus at the time Kyari is said to be currently undergoing treatment at an undisclosed facility.
Like Abba Kyari, the governor of Bauchi state, northern Nigeria, Bala Mohammed tested positive for coronavirus after shaking hands with a son of Atiku Abubakar, a former Nigerian Vice President, who also tested positive for the virus.
A statement on Tuesday by Mukhtar Gidado, senior special assistant to the governor on media, said Mohammed is currently under quarantine.
The statement reads as thus; "This is to inform the general public that the result of the Six initial tests carried out by the Nigeria Centre for Diseases Control (NCDC) on His Excellency, Sen. Bala Abdulkadir Mohammed, his family and aides that accompanied him to Lagos is out. Of the Six initial tests carried out, one sample was confirmed positive of COVID -19," the statement read.
"The positive result happened to be that of His Excellency Senator Bala Abdulkadir Mohammed, the Executive Governor of Bauchi State," the statement added.
However, after the test results, a fact check shows Aliko Dangote, Africa's richest man had contact with the Covid-19 infected Bauchi governor while Lai Mohammed, Nigeria's Minister of Power, Yahaya Bello, the governor of Kogi State had contacts with coronavirus infected Kyari.
Below is a list of people that had contact with coronavirus infected Kyari and Bauchi governor
Some of those who had contacts with Abba Kyari in the last few days…
1. President Buhari
2. VP Osinbajo
3. Governor Yahaya Bello
4. Inspector-General of Police
5. Minister of Power
6. Garba Shehu
7. Senator George Akume.
8. Governor Masari
9. Governor Ganduje
10. Dangote among others.
Some of those who had contacts with Bauchi governor in the last few days…
1. Dangote
2. Passengers of Aero Contractors.
It is believed that the people on this list also had several contacts with others.