FBI Releases Documents Showing How Abba Kyari Worked For Hushpuppi [Photos]
FBI has released documents showing how Abba Kyari worked for Hushpuppi.
Newsone reports that a 46-year-old Deputy Commissioner of Police and leader of the Inspector General of Police's Intelligence Response Team (IRT), Abba Kyari, was on Wednesday, July 28, named in a report by an officer of the US Federal Bureau of Invetigation (FIB) as one of six persons who conspired to fraudulently obtain over $1m from a business person.
Also, Newsone reports that internet fraudster, Ramon Abass popularly known as Hushpuppi has pleaded guilty and will be sentenced to a jail term of 20 years.
This online news platform understands that the report, which has gone viral on the social media, has seen the the Inspector General of Police (IGP) Usman Alkali Baba giving an order to probe Hushpuppi in a statement issued by the Force Public Relations Officer, CP Frank Mba which was sighted by Newsone Nigeria.
Though Abba Kyari has addressed the issue and revealed that he never collected anything from Hushpuppi, Newsone reports that the FBI has come up with a detailed document to proof its claims.
Newsone
reports that the FBI has released detailed documents explaining how
Supercop, Abba Kyari was working for Hushpuppi
.
According to the documents released by the FBI, Newsone reports that while investigation was going on, it was discovered that DCP Abba Kyari had a relationship with Hushpuppi which went on till the later was arrested.
The documents revealed that while investigation was going on, Hushpuppi reportedly took Kyari on an all expensed paid trip to Dubai, the United Arab Emirates (UAE) with a presidential treatment from the moment he landed at the airport.
Read the FBI documents on Abba Kyari and Hushpuppi below…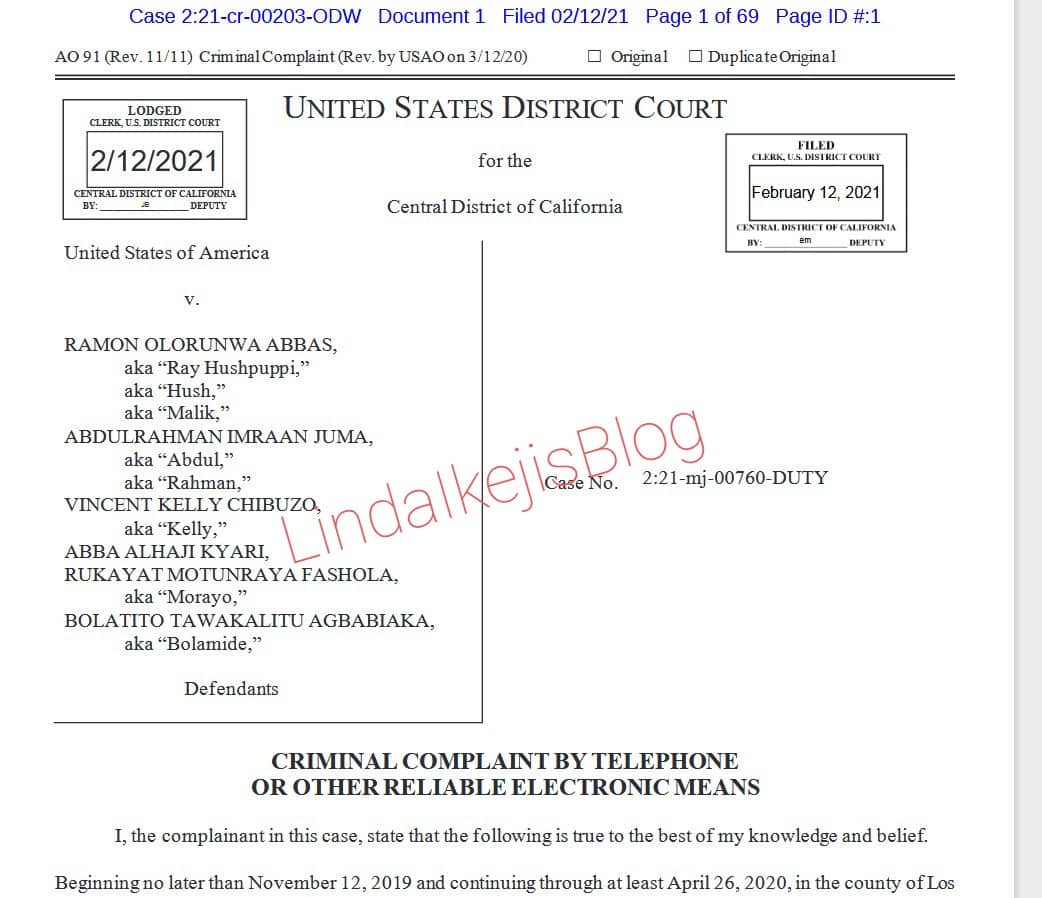 The affidavit showed that the police boss, using the phone number +234909999****, sent Hushpuppi a photograph of him sitting at a desk in his office on September 8, 2019.
The affidavit reads: "For example, using the phone number +234909999****—which ABBAS had saved as 'ABBA KYARI'—KYARI sent ABBAS the following photograph, on September 8, 2019."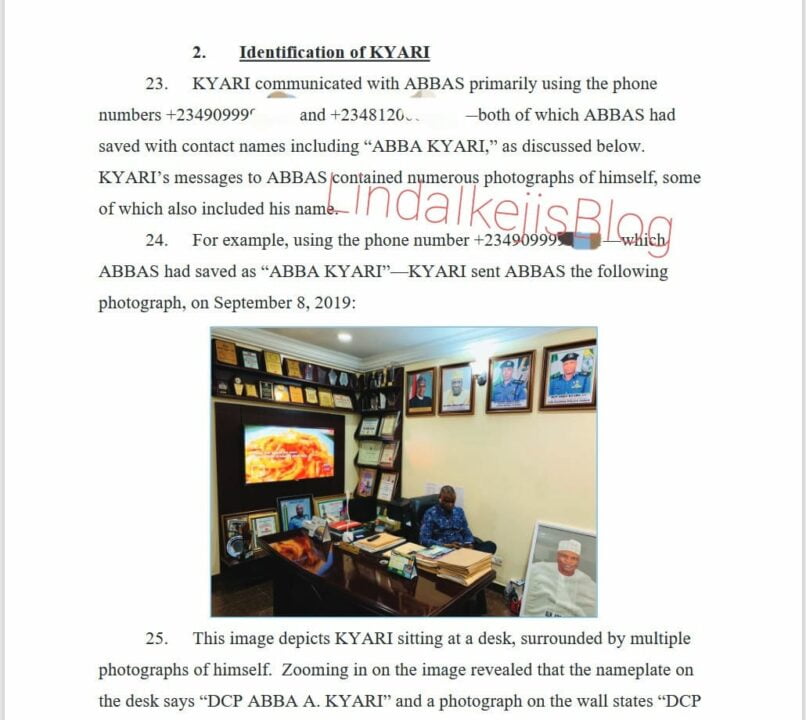 The FBI agent added in the affidavit that Kyari sent Abbas 'Huspuppi' a link to an article in the Nigerian publication 'The Independent' describing how he was being honoured by the House of Representatives.
The FBI adds in the affidavit: "Using the phone number +234812000***—which ABBAS had saved as 'ABBA KYARI NEW NUMB'— KYARI sent several images of himself to ABBAS in April and May 2020."
FBI Special Agent, Innocenti, said in the court documents: "I reviewed online articles about KYARI, which indicated that KYARI is an Inspector General of the Police's Intelligence Response Team and a Deputy Commissioner of Police in Nigeria. KYARI previously managed the Special Anti- Robbery Squad, commonly known as SARS, as the Officer-In-Charge for several years. Articles referred to KYARI as a 'super cop' of the Nigeria Police Force, and described him as 'The Most Decorated Officer In The History Of The Nigerian Police.'
"KYARI has been awarded many accolades, including recognition for his performance by the Nigerian House of Representatives in June 2020, which KYARI informed ABBAS of via the news article discussed above.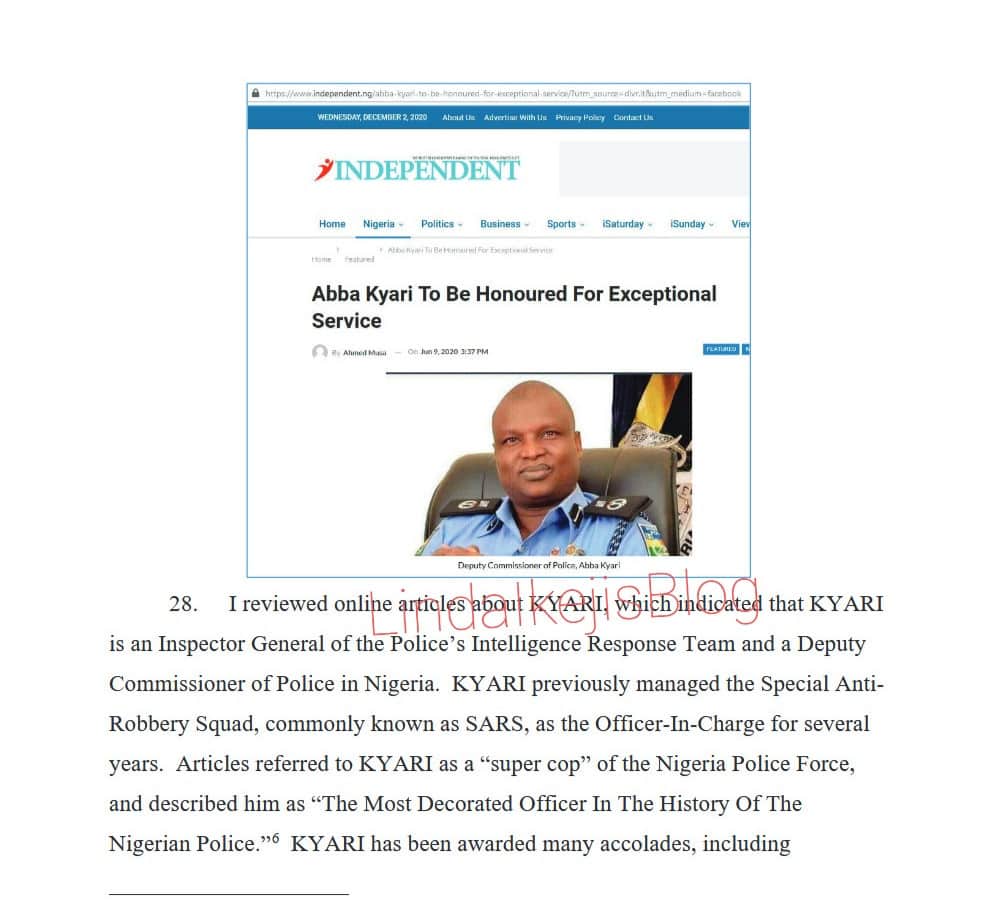 "I also reviewed other articles, from October and November 2020, which indicated that KYARI had been accused of falsely arresting and extorting a businessman in Lagos. Based on those articles, KYARI's work, in general, appears to have related primarily to kidnapping cases, and I did not see any articles suggesting that KYARI worked on fraud cases.
"Finally, I have reviewed a certified NIV application submitted by ABBA ALHAJI KYARI, in April 2019. This application included one of the aforementioned phone numbers (0909999****) that KYARI used to communicate with ABBAS, as well as a date of birth in March of 1975, and KYARI's Nigerian passport number ending in 3677. The NIV application also included the following photograph, which is consistent with the other photographs of KYARI shown above: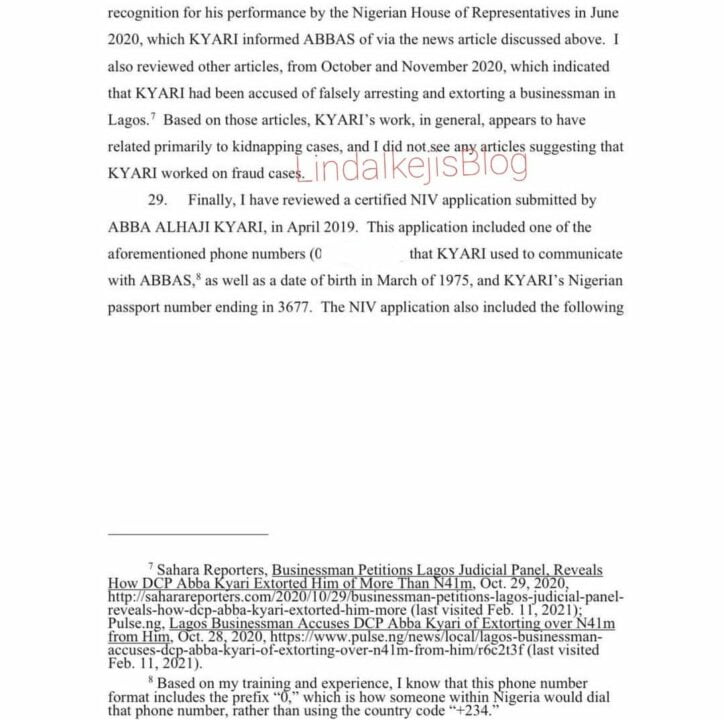 "Based on messages I reviewed, ABBAS appears to have first interacted with KYARI in September 2019, when KYARI travelled to the U.A.E. The conversation indicated that ABBAS sent a car and driver to drive KYARI during that trip. Soon thereafter, KYARI sent ABBAS a video slideshow which showed some personal photographs of KYARI, some of which appeared to have been taken in the U.A.E. Later in September, after KYARI sent ABBAS an article that discussed him arresting alleged kidnappers, ABBAS wrote, in part, to KYARI, 'Am really happy to be ur boy,' and later, 'I promise to be a good boy to u sir,'" the affidavit read.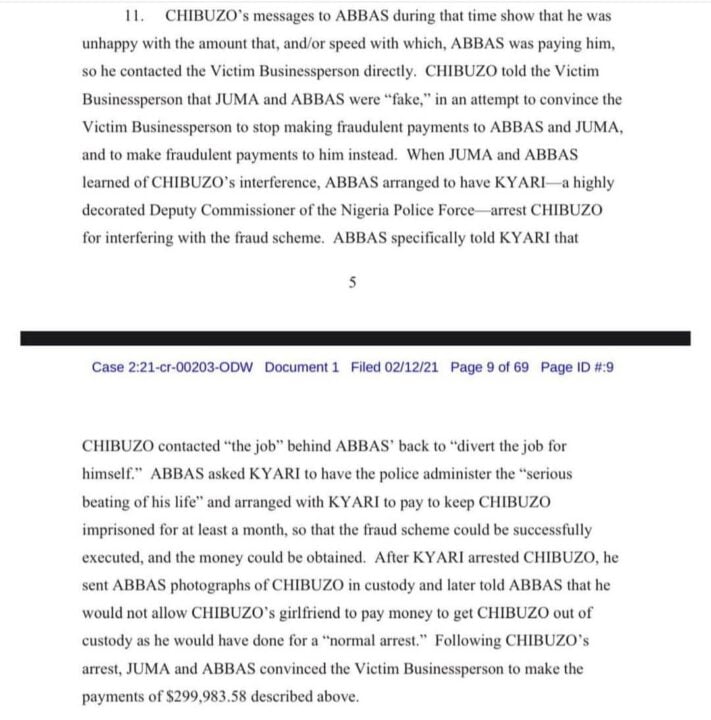 Otis Wright of the United States District Court for the Central District of California ordered the Federal Bureau of Investigation (FBI) to police officer, Abba Kyari, and produce him in the United States for his alleged role in a $1.1 million fraud.
US court documents showed that American prosecutors first sought a court warrant to arrest Kyari on February 12, 2021. Another warrant was requested on April 29, 2021.
Meanwhile, Newsone gathered that Judge Wright's permission for the FBI to arrest Kyari and hold him in US custody was unsealed on July 26, 2021.