My Desire June Teasers 2023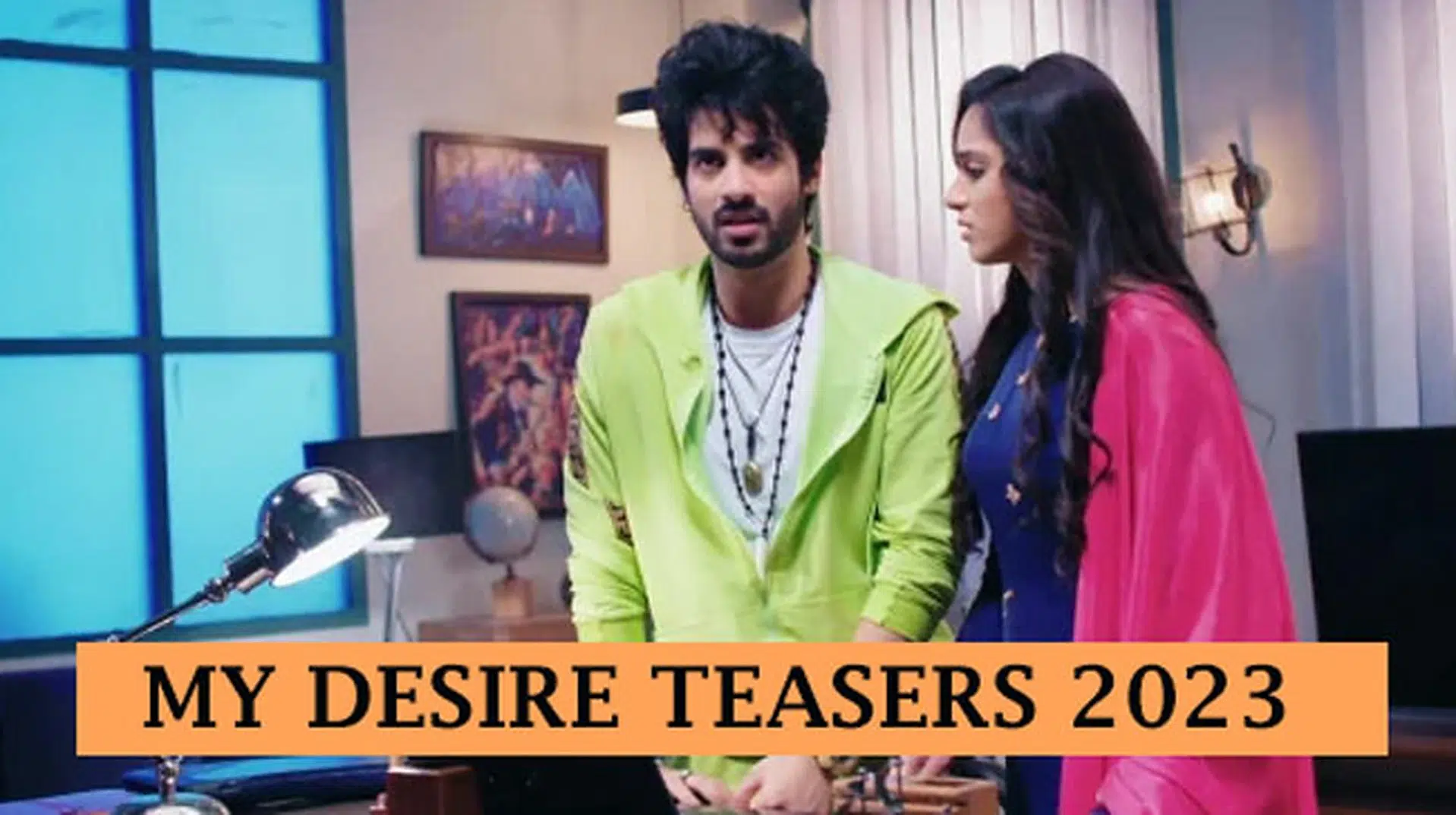 My Desire June Teasers 2023 can be accessed below.
Newsone has compiled My Desire June Teasers 2023  for our movie lovers to go through and know what to expect in this My Desire episode.
Thursday 1 June 2023
Episode 697
When Roohi gets locked inside a car and loses consciousness, Saaransh seeks Preesha's help. Later, Armaan informs Roohi and Saaransh about Preesha's condition.
Friday 2 June 2023
Episode 698
Armaan proves to Saaransh and Roohi that any mention of Rudraksh causes seizures for Preesha. He manages to convince the kids not to inform Rudraksh about Preesha.
Saturday 3 June 2023
Episode 699
A furious Saaransh gives Rudraksh a shocking ultimatum in response to his actions towards Roohi. Later, Preesha and Rudraksh end up at the same temple.
Sunday 4 June 2023
Episode 700
Roohi plans to bring Rudraksh and Preesha in front of each other at Vidyut and Pihu's play. On the other hand, Armaan comes up with a plan to stop them.
---
Monday 5 June 2023
Episode 701
Preesha helps Roohi escape a locked room and is about to meet Rudraksh when Armaan pulls her away. Roohi feels sad about not being able to reunite her parents.
Episode 702
Pihu feels upset when she has a dress malfunction during her performance, but Raj saves her. Later, Roohi learns that Preesha is leaving for Mumbai.
Tuesday 6 June 2023
Episode 703
At Preesha's request, Raj exposes Vidyuth's villainous intent to bring trouble to Pihu. Rudraksh feels overwhelmed to see Preesha but she gets furious at him.
Episode 704
Rudraksh tries to apologise to Preesha, but she gets furious and lashes out at him. Later, Armaan reveals shocking information to Rudraksh and gets him arrested.
Wednesday 7 June 2023
Episode 705
Rudraksh is granted bail and brought out of prison. Later, Roohi narrates to Rudraksh a tale connected to Preesha's memory loss.
Episode 706
Rudraksh berates Vidyut for misbehaving with Pihu and makes him apologise to her. However, his real plan is to sneak Roohi into Preesha's room to speak to her.
Thursday 8 June 2023
Episode 707
Rudraksh reveals to Pihu that Saaransh and Roohi are none other than his children. Later, Rudraksh hatches an idea to stop Preesha at the airport.
Episode 708
A stranger offers to help Rudraksh reach the airport in time to stop Preesha from leaving. However, Rudraksh faces unforeseen circumstances on the way.
Friday 9 June 2023
Episode 709
Upon encountering Rudraksh, Preesha gets aggressive and unleashes her fury on Roohi; she has a seizure outbreak and Rudraksh becomes suspicious.
Episode 710
Vanshika lures Preesha to Dr Awasthi's clinic where she undergoes many tests. Later, Rudraksh learns that Preesha was administered high doses of anti-seizure medicine.
Saturday 10 June 2023
Episode 711
Vanshika cooks up a fake story about Preesha's unconsciousness and Armaan comes to take her back home. Rudraksh plans to move closer to Armaan's house.
Episode 712
Rudraksh surprises Saaransh and Roohi as they move into the new house. However, Armaan finds out about it and convinces the owner to not sell her house to Rudraksh.
Sunday 11 June 2023
Episode 713
Rudraksh finds Roohi's letter and learns that she has left the house because of the fight between him and Saaransh. Later, Pihu convinces Preesha to go to Shimla.
Episode 714
Vanshika's attempt to find the resort bears fruit while Rudraksh and Saaransh pray at a temple for Preesha; Rudraksh sets his plan in motion.
---
Monday 12 June 2023
Episode 715
Preesha saves Saaransh from getting badly injured in an accident, and she feels that she has done the same in the past as well. Later, Armaan finds out about Rudraksh's plan.
Episode 716
Pihu visits the resort to surprise Preesha; Armaan makes Preesha fall unconscious and puts her beside Rudraksh.
Tuesday 13 June 2023
Episode 717
Armaan frames Rudraksh and acts innocent when Sharda intervenes and convinces Preesha to believe otherwise; Rudraksh figures out that his coffee was spiked.
Episode 718
Rudrakash gets emotional thinking about Preesha after the latter misunderstands his intention; Roohi devises a plan and visits Armaan's house to meet Preesha.
Wednesday 14 June 2023
Episode 719
Armaan is annoyed to see Roohi once again meeting with Preesha and takes her back to Rudraksh. However, Roohi figures out a way to bring Rudraksh and Preesha closer.
Episode 720
Rudraksh seeks help from a reputed makeup artist to transform himself into a gardener. However, Rudraksh gets in trouble when Preesha brings Pihu to the same place.
Thursday 15 June 2023
Episode 721
Rudraksh spots Armaan standing outside the makeup parlour and narrowly escapes getting caught by him. Later, Roohi and Saaransh give gardening lessons to Rudraksh.
Episode 722
Rudraksh reaches Preesha's home in disguise expecting to be hired as the gardener. However, he is shocked to learn that he has to compete with others to get the job.
Friday 16 June 2023
Episode 723
Preesha comes across Pihu; Pihu explains the upcoming competition at the college; Rudraksh makes contact with Preesha.
Episode 724
Digvijay fumes in rage when he spots a disguised Rudraksh in Kanchan's arms. Later, Rudraksh continues to secretly search for Preesha's medicines.
Saturday 17 June 2023
Episode 725
Roohi enters the Thakur mansion to meet a disguised Rudraksh. Elsewhere, Vidyut puts forth a request to Pihu regarding her concert with Raj.
Episode 726
Pihu spots a disguised Rudraksh using a costly smartphone while misfortune strikes Roohi. Later, Roohi identifies Rudraksh as her father after regaining her senses.
Sunday 18 June 2023
Episode 727
After falling, Roohi loses her memory, leaving Rudraksh in a panic. Later, she, Saaransh and Sharda have a great time having executed their plan.
Episode 728
Troubled by Roohi's health condition, Preesha chooses to meet Rudraksh. In the meantime, a disguised Rudraksh prepares to head to the Khurana mansion.
---
Monday 19 June 2023
Episode 729
After a long time, Preesha sets foot inside the Khurana mansion. With memories filled with every corner. Can Preesha recall her past?
Episode 730
Kanchan issues a warning to a disguised Vidyuth, unaware of his identity. Meanwhile, Rudraksh grants Preesha permission to take care of an injured Roohi.
Tuesday 20 June 2023
Episode 731
Armaan and Preesha spot Rudraksh coming into their house but the latter is able to come up with an excuse. Later, Preesha shares her suspicions with Pihu.
Episode 732
Preesha takes Roohi and Saaransh to an ice cream parlour at midnight. A disguised Rudraksh joins them and attempts to retrieve her memories.
Wednesday 21 June 2023
Episode 733
The kids and Rudraksh hate Preesha's terrible singing; while a disguised Rudraksh meets Vidyuth at midnight, Armaan keeps an eye on them.
Episode 734
A disguised Rudraksh escapes narrowly when Armaan exposes him in front of the Thakurs. Later, Armaan keeps an eye on Rudraksh's whereabouts.
Thursday 22 June 2023
Episode 735
Pihu prepares sweets for Raj on the occasion of Janmasthami. Armaan frames Rudraksh by accusing him of stealing Lord Krishna's statue.
Episode 736
Roohi shows the video of Armaan switching the idol and prevents Rudraksh from being thrown out of the house. Later, Preesha makes Armaan apologise to Rudraksh.
Friday 23 June 2023
Episode 737
Roohi, Saaransh and Rudraksh spend time beside an unconscious Preesha. Later, Armaan finds a piece of cloth that belongs to the disguised Rudraksh.
Episode 738
Preesha sternly refuses when Armaan asks her to fire the gardener as he suspects he works for Rudraksh. Later, Armaan collects evidence against him in order to exact revenge on Rudraksh.
Saturday 24 June 2023
Episode 739
To prove his point to Preesha, Armaan makes the decision to transgress every boundary. He bribes the priest to create paranoia in the house and ultimately ends up injuring Rudraksh.
Episode 740
Armaan comes up with a clever ploy to prove that Prem is working as a spy for Rudraksh. However, Rudraksh uses Armaan's plan against him and proves himself innocent.
Sunday 25 June 2023
Episode 741
Rudraksh helps Preesha with her sari when she suffers a wardrobe malfunction; he discloses his past to Preesha, attempting to retrieve her memory.
Episode 742
Rudraksh approaches Preesha, but Armaan stops him; a brawl ensues between them; Rudraksh expresses his happiness when Preesha prevents Armaan from hurting him.
---
Monday 26 June 2023
Episode 743
Before the competition, the doctor declares that Raj has lost his voice due to consuming something harmful; Vidyuth blames Kanchan and Pihu for Raj's plight.
Episode 744
Kanchan blames Rudraksh for ruining the precious plant she bought and decides to fire him from the job. However, Rudraksh comes up with a plan to save his job.
Tuesday 27 June 2023
Episode 745
When Raj is distraught about losing his voice, Pihu tries to console him. Meanwhile, Armaan discovers that Rudraksh has purchased the costly plant.
Episode 746
Vanshika saves Rudraksh from being exposed in front of the Thakurs. Meanwhile, Pihu heads to the Khurana mansion and apologises to Raj.
Wednesday 28 June 2023
Episode 747
Roohi tells Rudraksh that Armaan is using drugs to control Preesha and Rudraksh' plans to find the drugs in Armaan's room. Later, Raj gives shocking information to Pihu.
Episode 748
To stop Rudraksh's plan from failing, Roohi distracts Preesha and asks her to go star gazing together; Rudraksh finds Armaan's fake medicine stash and replaces it.
Thursday 29 June 2023
Episode 749
Rudraksh discovers the medicine hidden in Armaan's room. Later, he brings a pregnant goat into the house to recreate a memory for Preesha.
Episode 750
Rudraksh's comment about Preesha makes her wonder about her past. Pihu tries to unmask and expose Vidyut to the Khuranas, but discovers that Vidyut is always one step ahead of her.
Friday 30 June 2023
Episode 751
Rudraksh shows the fake footage given to him by Pihu and asks the police to arrest Armaan; Rudraksh comes up with a plan to help get Preesha's memory back.
Episode 752
Pihu reads Preesha and Rudraksh's love letters and understands their love story; Roohi's birthday is celebrated on a grand note.
---
Premiere episodes of My Desire air on Starlife from Monday to Sunday at 20h00.