Vava Furniture, Nigeria's leading indigenous furniture brand, has partnered with Nollywood actor, Alexx Ekubo.
Newsone reports that the two industry giants, Vava Furniture and Alex sealed the deal on Sunday, December 11, 2022.
This online news platform understands that Alexx is expected as Vava Furniture's ambassador, to promote the core values of the brand. He will also work closely with furniture manufacturers and retailers to promote local production and made-in-Nigeria products.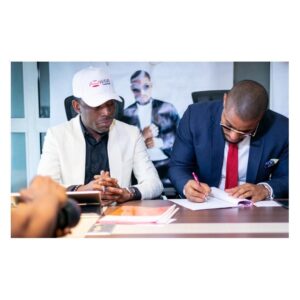 Vava Furniture, an indigenous brand that has existed for about a decade, has vast experience in designing buildings and construction of both furniture and interior decorations.
With 14 showrooms and 3 that are near completion, Newsone Nigeria reports that Vava Furniture has the biggest branch network in the furniture industry.
It was recently nominated as one of the biggest 100 brands in Africa, according to Segun Animashaun, the Finance Controller, Viva Group, who also spoke at the signing ceremony.
Vava Furniture is also the only furniture brand in Nigeria that exports to America, competing with other great brands in the world.
"…the structure they have in America, before you sell a nail, you go through rigorous quality control and checks. So, to say the Vava Furniture is the first furniture house out of Nigeria to be selling in America says a lot about the quality that we have here," Alexx said while vouching for the brand.

Earlier, Amir Zakhary, Sales Director of Vava Furniture, noted in his speech that the company picked Alexx as its ambassador because of his 'impressive CV and journey to success'.