Newsone reports Anambra State Government led by Governor Charles Soludo has demolished a church building in Onitsha, the commercial nerve of the southeast state, belonging to Prophet Odumeje.
This online news platform understands that Prophet Odumeje whose real name is Chukwuemeka Ohanaemere is the spiritual leader of the Mountain of Holy Ghost Intervention and Deliverance Ministry.
Newsone Nigeria reports that the demolition of Prophet Odumeje's church was carried out by a joint team of state actors and police officers on Thursday, July 7, 2022.
The Anambra government said the demolition was in line with the Onitsha Urban Renewal Plan of Governor Charles Soludo's administration. The structure was said to be erected along the Nwagene stream at the Odoakpu area and had to be removed.
During the demolition of a part of the church building, Prophet Odumeje was assaulted by some Task Force operatives as onlookers watched.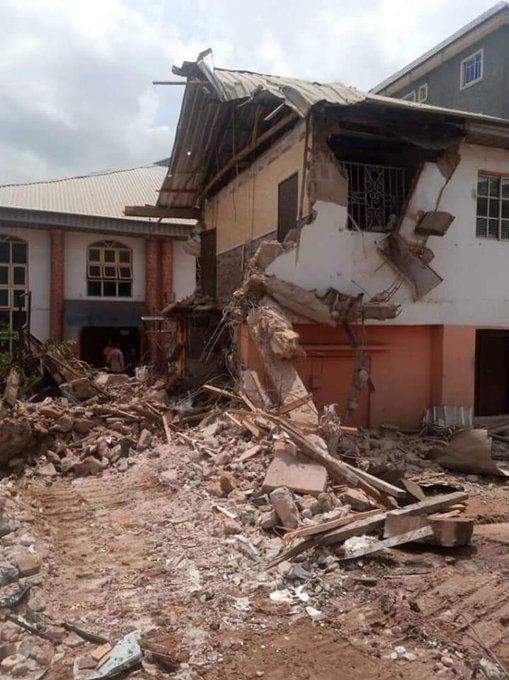 Newsone reports that Soludo taskforce slapped and hit Prophet Odumeje, accusing him of obstructing their assignment and attempting to stop work.
Watch Soludo taskforce beat Prophet Odumeje below…
On Odumeje's church demolition on the orders of Governor Soludo, I hear it was already marked since April because it was illegally built on a drainage. The current Anambra State govt is showing us that rules apply to everyone. My issue is, how can they slap a whole Liquid Metal? pic.twitter.com/Xii5ocNzyQ

— George I. Essien (@iamMightyGeorge) July 7, 2022
Watch the moment the church was demolished…
Governor Soludo demolishing the structures that blocked drainage system at Onitsha..

He started with Pastor Odumeje Indaboski bahose's building. pic.twitter.com/CTTq5CIVYz

— Onwa_Nnewi (@Kene_Nnewi) July 7, 2022
Nigerians condemn attack on Prophet Odumeje
Demolish his church if it's been marked for demolition and Odumeje has been fully informed but you don't beat him like he's a common criminal.

Soludo must do something about the way his task force treated and manhandled Odumeje.

IT'S WRONG!!!!

— SportsDokita (Odogwu ☝️) (@Sports_Doctor2) July 7, 2022
BREAKING:
Gov. Soludo of Anambra state demolish Prophet Odumeje's church in Onitsha. The Indabosky beaten blue black and bundled out of the premises. pic.twitter.com/W1xQyK7NdF

— Tinubu Media Commando (TMC) 36'KiNNiuN𓃵 (@Fattylincornn) July 7, 2022
Man of war (Odumeje) is being beaten in Anambra State as Gov. Soludo is demolishing his Church. 🙆🏾‍♂️ pic.twitter.com/sPUWaHsrLe

— Danny of PH City (@Echendu_Daniel) July 7, 2022
Odumeje was here talking about Anambra State Government clean up and he was also praising Gov Soludo not knowing the baton will fall on him next 🤦🏾‍♂️
pic.twitter.com/C6R32AwcPk

— 'Iyawo Bruno Fernandez' 𓃵 (@ayo_olah) July 7, 2022
Those security guys don't know that if Odumeje opens his mouth & say he is the fight, the war, the lion & the Indabosky pawous they will all die by fire 😜

Jokes apart, this brutality is condemnable. Two wrongs don't make a right Soludo Labour Party Reno Agbani Ike Ekweremadu pic.twitter.com/FslPOYOz5k

— Davidwhyt for Peter Obi 🙌 (@davidwhytsax) July 7, 2022
Governor Soludo demolishing the structures that blocked drainage system at Onitsha..

He started with Pastor Odumeje Indaboski bahose's building. pic.twitter.com/CTTq5CIVYz

— Onwa_Nnewi (@Kene_Nnewi) July 7, 2022
What Soludo's Task Force did to Odumeje is distasteful, barbaric, and condemnable

— Anambra 1st son💭 (@UchePOkoye) July 7, 2022
Gov Soludo demolished Odumeje's church. I don't understand why security men are hitting him. pic.twitter.com/Zxw5c4tae0

— Nnanyelugo (@Okenwaokodu) July 7, 2022