Watch Moment PnB Rock Was Shot Dead While Being Robbed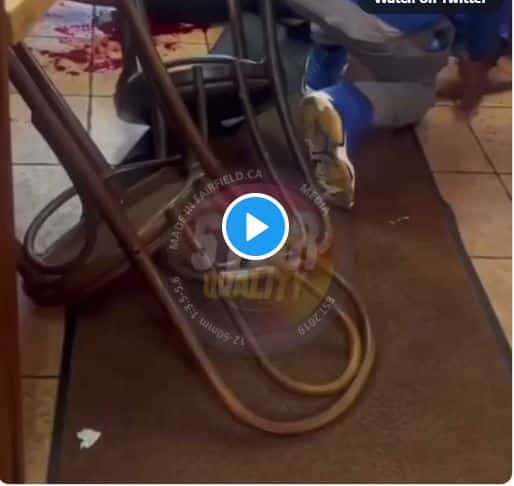 Watch the moment PnB Rock was shot dead while being robbed below.
Newsone reports that American rapper and singer, PnB Rock was killed in a South Los Angeles shooting while getting robbed on Monday afternoon. The L.A. Times reported the news and the LAPD confirmed to Complex that a victim was fatally shot.
The Times wrote that the shooting happened at 1:15 p.m. at Roscoe's House of Chicken 'N Waffles as PnB Rock was "being robbed of his jewelry." TMZ said law enforcement received a call about the incident at 1:23 p.m. and that graphic footage circulating online showed him "fighting for his life." Police told media the victim was pronounced dead at a hospital at 1:59 p.m.
"The victim was sitting at a table eating with a female witness when he was approached by the suspect," Los Angeles Police Capt. Kelly Muniz says in one of the clips below, without naming PnB Rock. "The suspect then brandished a firearm and demanded his property. … The suspect then fired multiple rounds and then appears to remove some property, to what extent we don't know at this time."
LAPD says the male victim shot at Roscoe's during a robbery this afternoon has died. Rapper PnB rock was dining here with his girlfriend when he was shot according to TMZ @FOXLA pic.twitter.com/AI6a88r0kS

— Travis Rice (@traviscrice) September 13, 2022
The Times says Muniz also revealed the suspect "shot the victim and ran out the side door to a getaway car and then fled the parking lot." A TMZ source indicated it "appears the shooter targeted PnB because no one else was shot or assaulted."

PnB Rock

's girlfriend Stephanie Sibounheuang, with whom he shared 2-year-old daughter Xuri, reportedly

posted

 and deleted that they were eating at Roscoe's on her Instagram Stories. Sibounheuang co-starred in his "Need Somebody" music video (below) in April 2021, with PnB writing at the time, "Quarantine put me and bae relationship to the test…mainly my fuckups but we been thuggin' it out and goin' thru all this shit just make us stronger."
Watch the moment PnB Rock was shot dead below…
RIP Rock 🕊 #PNB #pnbrock #legendsliveforever pic.twitter.com/A6wR12b8QH

— Unusual 🐍 (@EEsentia) September 13, 2022

Born Rakim Hasheem Allen, but better known by his stage name PnB Rock was an American rapper and singer from Philadelphia, Pennsylvania. He was best known for his single "Selfish", which peaked at number 51 on the US Billboard Hot 100. PnB Rock was 30 years old. He leaves behind two young daughters.