Ifeanyi Adeleke Death: Why Family Insisted On Keeping Corpse In The Mortuary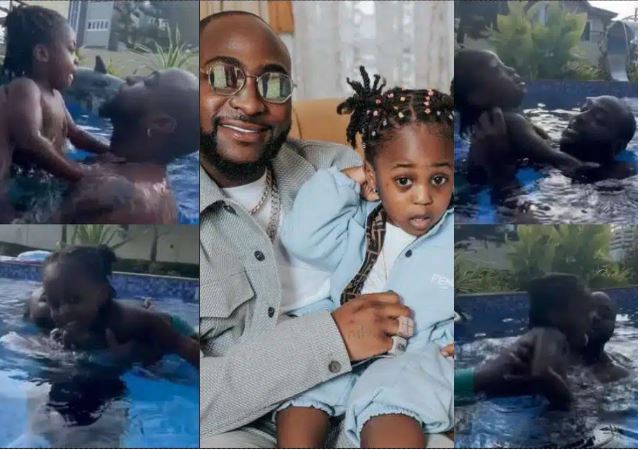 Ifeanyi Adeleke death and why the family insisted on keeping the corpse in the mortuary can be accessed.
Since the news of the passing of little Ifeanyi Adeleke surfaced in the wee hours of October 31, 2022, many people have been saddened and distressed.
Ifeanyi, who turned three on October 20, drowned inside the pool in the Banana Island home of his father, David Adeleke according to reports
A report monitored on ENigeria Newspaper by Newsone Nigeria quoted a source close to the Adelekes said that when the Chef arrived to join them, the Nanny was with Ifeanyi. When the Nanny returned from taking a call, she couldn't find Ifeanyi and believed he was with the Chef. However, the Chef, when questioned, said he had left Ifeanyi with her.
According to information obtained by ENigeria Newspaper, they reportedly began searching desperately for Ifeanyi at that juncture and did so for around 20 minutes before a security guard found his body in the pool. How the boy entered the water was a mystery to everyone.
According to reports, Davido and Chioma learned the terrible news when they arrived home from their trip and have since remained inconsolable. "Davido ran mad. Davido and Chioma have been inconsolable ever since. "He practically stripped naked and attempted to run into the streets before he was restrained. The boy's body was taken to the morgue as the family insists that an autopsy would be performed to ascertain the cause of death", a source said.
Meanwhile, all friends, employees, and coworkers are said not to be permitted to go to Davido's father's house, where he and Chioma are holed up for now.
Ifeanyi Adeleke: The ignored prophecy about his death – Davido's brother
A family member has spoken up regarding a prophecy on Davido's son, Ifeanyi who reportedly drowned in a swimming pool mishap.
Ifeanyi Adeleke, son of music star, David Adeleke also known as Davido reportedly drowned in a swimming pool mishap at their expansive Banana Island, Lagos home on Monday night.
Newsone Nigeria had reported earlier that Davido and his fiancée, Chioma Rowland were not in town when the ugly incident occurred but left their child Ifeanyi in the care of his nanny and other domestic staff.
According to a family member who broke the news to our source, Ifeanyi's lifeless body was found after several minutes in the pool after he had drowned and they quickly moved him to Evacare hospital where he was confirmed dead on arrival.
Speaking about the tragic death of Ifeanyi Adeleke, Davido's foster brother, Emeka Senator made a new revelation saying there was a revelation that the parents ignored.
Senator who also confirmed the death of Ifeanyi on his Instagram page was among the first to confirm the heartbreaking news alongside actress, Eniola Badmus who has been pummeled seriously by netizens for being the first to break the tragic news.
Taking to Instagram, Davido's foster brother shared a photo of the deceased, as he recalled a prophecy about the tragic incident. He claimed that a revelation was given to the parents about his death, but they took it for granted. Emeka apologised to God for ignoring the warnings.
"The revelation was taken for granted. We are truly lost". The singer's first son passed away on Monday, October 31, 2022.
Police Makes Official Statement
In his reaction, the spokesperson of the Lagos state police command, SP Benjamin Hundeyin, confirmed that eight of the domestic staff of singer Davido have been brought in for questioning following the drowning of his son, Ifeanyi.
The Lagos Police Command Spokesman said eight of the domestic staff were brought in for questioning today November 1st. He said after investigation, those found not culpable in the unfortunate incident will be released while those found culpable will remain with the police for further investigation.
"They were brought in for questioning, not arrest. Anybody found not culpable will be released immediately while those found culpable will remain with us to further our investigation" he said.